There have been reports of accidents involving the handle clamps on bicycles manufactured by other companies fitted with the Zero 100 Servizo Corse handlebar stems manufactured by DEDA ELEMENTI of Italy breaking, causing riders to lose balance and the bicycle to topple over.

This handlebar stem is used by four of Japan's import agencies, Kawashima Cycle Supply Co., Ltd., InterMax Co., Ltd., Nichinao Shokai Co., Ltd. and Fukaya Sangyo Co., Ltd., as well as on certain models of Bridgestone's ANCHOR series, and understanding the seriousness of this and to guarantee the safety of our customers, we have decided to recall (free replacement) all of the handlebar stems used on this handlebar stem. We apologize for the inconvenience, but request all users of this handlebar stem to cease usage immediately and contact your dealer either by telephone or in person.

We deeply apologize for any anxiety and inconvenience this recall may cause, but we ask for your understanding and cooperation.


1. Affected Models

The models fitted with the Zero 100 Servizo Corse handlebar stems manufactured by Dede Elementi of Italy are as follows:






2. Details of the Defect

There is a possibility that the handlebar clamp will break if too much torque is applied to the clamp bolt on the handlebar stem during tightening, and in the event of the bicycle toppling over.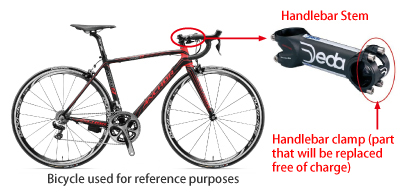 3. Details of Free Repair

The handlebar clamp on the handlebar stem will be replaced with an equivalent part that has been thickened and strengthened.
* The replacement parts are the handlebar stem's handlebar clamp and the four bolts that hold it in place.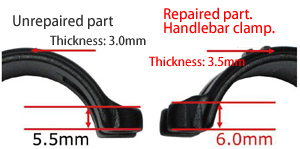 4. Repaired Parts

As shown on the illustration on the right, repaired clamps will be imprinted with a six-digit control number. If your bicycle is already stamped with a repaired clamp, it may be used without worry.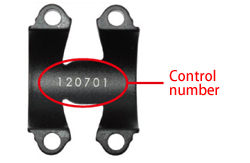 5. Inquiries

Contact the Bridgestone Cycle Customer Call Center at the following number with all inquiries.





6. Reference Information

Check the [Details on the Free Replacement of the Handlebar Stem] provided by the four of Japan's import agencies that use this handlebar stem: Kawashima Cycle Supply Co., Ltd., InterMax Co., Ltd., Nichinao Shokai Co., Ltd. and Fukaya Sangyo Co., Ltd. Details on the Free Replacement of the Handlebar Stem (http://www.riogrande.co.jp/news/node/17684)