Bridgestone Cycle Co., Ltd. (President: Yuji Takeuchi) has developed the new multi-role road bike ANCHOR RL8 that can be used for a wide range of activities from racing through to just being a fun ride. The ANCHOR RL8 will represent the 2013 ANCHOR models that will be released on nationwide sale starting from October.
The Anchor series was released in 1998 as a sports brand providing high performance aimed at users with a preference for racing through to fitness riders. Also, the invaluable mass of data that our racing team, Bridgestone Anchor, which takes part in races in Japan and overseas, has built up through its daily involvement in racing was scientifically analyzed and used in the development of these bicycles.
The new ANCHOR RL8 succeeds the RFX8 model, which has sold a total of more than 10,000 units since its release in 2006 with its superior lightness and comfort performance making it the No.1 seller in the ANCHOR series.
The ANCHOR RL8 is a full carbon frame road bike using the technology we have cultivated from our racing activities, and it boasts a high level of performance that is close to our racing models and both lightness and comfort performance to make it the perfect bicycle for fun rides. In more details, the frame has a horizontal rigidity design that makes it 20% more flexible than our racing models and a frame dimension design that provides a slightly upright riding position to reduce the burden of pedaling on riders who ride for fun. It is also equipped with full carbon front forks in the same way as our racing models to enable sharp handling. The design is based on a luxurious concept in which the emphasis has been placed on the fine lines to make it appear as if the entire frame is flowing, and we have also managed to achieve a high-class, refreshing form by concealing the shift and brake wires inside the frame.
The new multi-role road bike ANCHOR RL8 that can be used for a wide range of activities from racing through to long rides, endurance rides, hill climbing and other fun rides is now available. An addition to the RL8, a total of 35 models will be released on sale starting from October, including the ANCHOR CX6 that was newly developed for racing in cyclo-cross races, which are recently gaining in popularity.
URL: http://www.anchor-bikes.com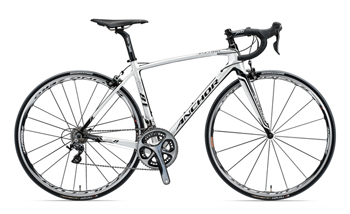 <Overview of Sales for the ANCHOR RL8>
Sales Area: Anchor dealers nationwide (approximately 650 stores)
Annual Sales Target: 2,000 units
Date of Release: End of November
Standard Cash Retail Price:
RL8 550,000 yen (inc. tax)
RL8 ELITE 340,000 yen (inc. tax)
RL8 EQUIPE 255,000 yen (inc. tax)
RL8 FRAME 180,000 yen (inc. tax)

[Product Configuration]

Transmission
Frame Size
(mm)

Rider Height
(cm)

Standard Cash
Retail Price (inc. tax.)*

Wheel Size

Frame Color

RL8

SHIMANO
DURA-ACE
22

390

420
450

480

510
540

140-156
149-160
156-169
162-176
169-182
176-187

550,000 yen

700C

Racing White
Racing Red
36 orderable colors

RL8 ELITE

SHIMANO
ULTEGRA
20

340,000 yen

RL8 EQUIPE

SHIMANO 105
20

255,000 yen

RL8 FRAME

-

180,000 yen


[Features of the RL8]
1. A Lightweight Full Carbon Frame Providing Full Comfort
A lightweight full carbon frame weighing just 980g that provides comfort while maintaining the high levels of performance available with our racing models. The shock-absorption performance of the mono-type seat stay, which is thinner in the horizontal direction, has been improved, and the horizontal rigidity design provides approximately 20% more flexibility than our racing models in order to reduce the pedaling burden in alignment with the legs of fun riders, all of which go to provide additional comfort.

2. Luxurious Design
The design is based on a luxurious concept in which the emphasis has been placed on the design of the fine lines to make it appear as if the entire frame, from the top tube through to the seat stay, is flowing, and the mono-type seat stay has been provided with a waist in order to attain a high-class yet casual design.

3. Internal Shift and Brake Wire Specifications
The shift and brake wires have been concealed inside the top tube and down tube to achieve a refreshing form.

4. Frame Design Providing a Slightly that Upright Riding Position
The geometry (dimensions) of the frame have been designed to enable an upright riding position to reduce physical stress during fun rides, which is more comfortable than the forward-leaning riding position used to reduce wind resistance when racing. In more detail, the head has been designed longer and the top tube shorter than our racing models.

5. A Tapered Head that Provides Accurate and Stable Handling
Tapering the head over a broad area from top to bottom provides accurate and stable handling.

6. The Same Full Carbon Front Forks as Our Racing Models
The same full carbon forks as the ones used on our RIS9 racing model have been used. This enabled us to use a straight form with high levels of responsiveness for sharp handling, and the comparatively thin design improves shock-absorption performance.

7. Components Manufactured by Shimano
Uses components (transmission, brakes, gears, etc.) manufactured by Shimano, which are highly acclaimed for their performance, covering the DURA-ACE 22-gear transmission, the ULTEGRA 20-gear transmission, and the 105 20-gear transmission.

8. The Di2 Motorized Shift Developed by Shimano can Now be Selected
It is now possible to select the Di2 motorized shift for the transmission specifications in addition to the conventional wire specifications.

9. Bridgestone's Original Extenza Tires
Uses Extenza ties, which were developed in a collaboration of Bridgestonefs tire technology and professional riders on the Team Bridgestone Anchor.

10. Frame Size that can be Ridden By Petite Ladies of 140cm in Height
We developed a frame with a size of 390mm to enable petite ladies from 140cm and upwards to ride the bicycle without reducing the size of the 700C wheels, which is the popular size for road bikes.

11. Order System with which Frame Color and Parts can be Individually Selected
We have adopted an order system to enable the selection of 38 different frame colors, 6 frame sizes, 3 handlebar sizes, 5 stem sizes, 2 types of transmission specifications, 3 bar tape colors, 5 outer-wire colors, 3 types of wheels, 2 types of gear cranks, 3 types of sprockets, 2 types of pedals, 3 types of saddles, and name inscription.
* There are certain colors and parts that cannot be ordered depending on the model.

[RL8 Specification Sheet]
(1) A Lightweight Full Carbon Frame Providing Full Comfort
(2) Luxurious Design
(3) Internal Shift and Brake Wire Specifications
(4) Frame Design Providing a Slightly that Upright Riding Position
(5) A Tapered Head that Provides Accurate and Stable Handling
(6) The Same Full Carbon Front Forks as Our Racing Models
(7) Components Manufactured by Shimano
(8) The Di2 Motorized Shift Developed by Shimano can Now be Selected
(9) Bridgestone's Original Extenza Tires
* Frame Size that can be Ridden By Petite Ladies of 140cm in Height
* Order System with which Frame Color and Parts can be Individually Selected