Bridgestone Cycle Co., Ltd. (president: Yuji Takeuchi) and nari/furi Co., Ltd. (president: Kazumasa Kobayashi,) which evolved the nari/furi apparel bicycle brand, have jointly developed a new lady-friendly, compact model of the HELMZ Speed Cruiser, which was conceived on the streets, and will release it on nationwide sale on June 1st.

This bicycle is neither a mountain bike conceived from the mountains, a road bike nor a cross bike conceived on the circuit, nor a simple and fashionable track bike. The HELMZ is being proposed as a new genre known as the Speed Cruiser conceived on the streets that was released on the market in April 2010 through a fusion of the creativity supplied by the street-wise nari/furi and the engineering skills of Bridgestone Cycles. In more detail, it is an urban bicycle fitted out with an original aluminum aero frame that is slightly angled to the front, a hollowed-out seat post, wheels with fewer spokes and a taller rim, a simple thumb-shifter gear changer situated near at hand, semi-block tires with a reflector line for greater safety at night, and other functions.

The new model is the H65, which was developed as a 480mm compact model fitted with 650C sized wheels that are suitable for ladies with the tone of the color kept low-key in the same way as the high-class H1X model. The H1X also uses saddle and handlebar tape designs based on camouflage graphics in order to enhance its militaristic taste. We are also planning to release original packages including frames in the near future. A special exhibition will be held at the Bike Forum Aoyama (Jingumae, Shibuya, Tokyo) between May 16th and 22nd.

<Overview of HELMZ Sales>
Sales Area: Nationwide HELMZ dealers (specialized bicycle dealers, etc.)
Annual Sales Target: Target: 650 units (Total)
Date of Release: Gradually released from June 01
Standard Cash Retail Price: H1X 179,000 yen, H1X frame 79,800 yen, H10 99,800yen, H65 99,800 yen

Website: www.helmz.jp/





[Product Configuration]

HELMZ

Frame Size
(mm)

Wheel Size
(inch)

Transmission

Handlebar Shape

Standard Cash Retail Price
(including tax)

Frame Color

H1X

H1X51

510

700C

10

Bullhorn

179,000 yen

T. Strong Black
T. Strong Mirror Silver
T. Matt Gun Metal

H1X53

530

H1X55

550

H1X51F

510

-

-

79,800 yen

H1X53F

530

-

-

H1X55F

550

-

-

H10

H10-51

510

700C

9

Flat

99,800 yen

E. Black
T. Amber Black
P. Scenic White
T. Matt Gray

H10-53

530

H10-55

550

H65

H65-48

480

650C

9

Flat

99,800 yen

E. Black
T. Amber Black
P. Sonic White

[New HELMZ Features]
1. 480mm compact model fitted with 650C sized wheels
We have developed a 480mm compact model fitted with 650C sized wheels that are smaller that the 700C sized wheels fitted to conventional models. These specifications are designed so that people from a height of 156cm can comfortably ride the bike, which is perfect for ladies and other people of small stature.
*Used on the H65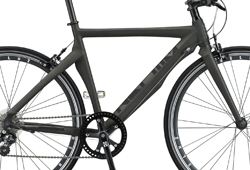 2. Handlebar tape and saddle designed with camouflage graphics
The conventional handlebar tape, which is highly acclaimed for its comfortable and functional grip, and the comfortable saddle have been designed in four types of camouflage color; matt black, gloss black, dark gray and metallic dark gray. These original matching-color camouflage graphics not only enhance the militaristic taste of the inorganic HELMZ, they also match up perfectly with a wide range of clothing in a non-obtrusive manner.
* Used on the H1X




3. Original parts packages scheduled for release
We are planning to release original parts packages that brings out the best details of the HELMZ. The package will also emphasize the parts in the same way. In more detail, we are planning to release HELMZ Xero wheels, thumb shifters, bullhorn handlebars, gear cranks, HELMZ original tires, HELMZ handlebar tape and HELMZ saddles, etc.

4. 510mm size model added for 161cm and taller riders
We have added a new 510mm frame size model to the high-class H1X range for riders with a height of 161cm and taller.

[Main Features of the HELMZ]
5. HELMZ original aero frame (aluminum)
All design work was carried out with the full cooperation of nari/furi,
and we adopted a special design and the SPF (Super Plastic Forming)
molding technique to expand pipes with high-pressure air to produce an aluminum
frame that is perfectly matched to street riding and that personifies our
design image. The tires nestling into the frame and the gently-angled
reverse-sloping crossbar provide a strong sense of aggression.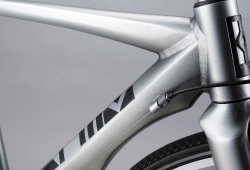 6. HELMZ bullhorn handlebars (manufactured by Nitto)
The bullhorn handlebars were designed and manufactured especially for the HELMZ by Nitto, which is famous for its high-quality products. The complex and 3-dimensional bends in ten locations provide a wide range of handlebar positions that prevent fatigue even on long journeys.
*Used on the H1X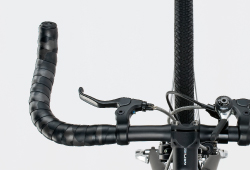 7. Simple thumb shifter for finger-tip operations
The thumb shifter enables the gears on the rear wheel to be operated near at hand. In addition to a simple external appearance, this allows the rider to experience a new style of operations that provides full manual control over the bicycle.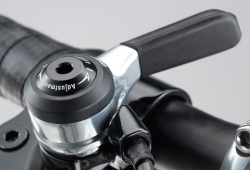 8. HELMZ Xero wheels
The front wheel has fewer spokes and a silver metallic aluminum rim with a height of 25mm, and the rear wheel has a black aluminum rim with a height of 38mm. This combined with the XERO wheels provides a completely original design using different textures and heights for the front and rear wheels as well as bearing-rotation performance, rigidity, strength and lightness that is perfect for road races.
*Used on the H1X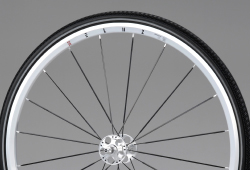 9. HELMZ wheels with a rim height of 30mm
New and original HELMZ wheels with a rim height of 30mm that places the emphasis on durability and rigidity to provide a tough town cruiser.
*Used on the H10 and H65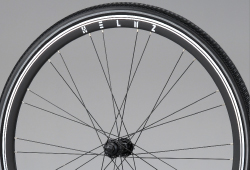 10. Semi-block tires equipped with reflector lines
The tires are 32C semi-block tires that were designed especially for street riding, and they incorporate night-time safety specifications with fitted
reflector lines.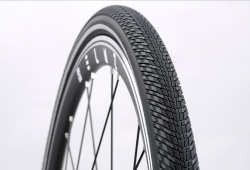 11. Pedals manufactured by Mikashima
In addition to being compact, thin, light and easily rotatable, the pedals also have battlement-type protrusions to prevent slipping. High-quality pedals manufactured by the world-famous Mikashima, of which Japan is justly proud.
*Used on the H1X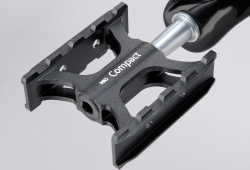 12. Aero-shaped seat post manufactured by Mike
A lightweight aero-shaped seat post that is thin and hollowed out.
*Used on the H1X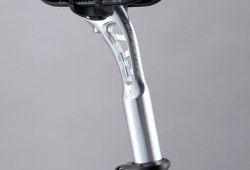 13. Ten-speed Shimano 105 gears
The highly-acclaimed ten-speed Shimano 105 transmission.
*Used on the H1X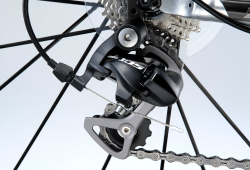 14. SBAA Standards
Conforms to the Sports Bicycle Association Approved (SBAA) standards enacted by the Bicycle Association of Japan, which are based on the EN Standards enacted in advanced countries in Europe for sports bicycles, but that take Japan's road conditions and the differences in sizes for Japanese people into account, etc., and that use environmentally-friendly materials.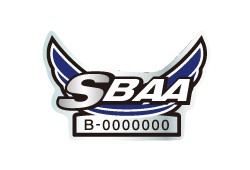 15. Etymology of the name HELMZ
The word HELMZ has been derived from "helm," as in "take the helm," to
represent being in total control.

[Features of the HELMZ H1X]
High-class model equipped with 700C sized wheels, ten-speed gears and bullhorn handlebars.
2. [New] Handlebar tape and saddle designed with camouflage graphics
4. [New] 510mm size model added for 161cm and taller riders
5. HELMZ original aero frame (aluminum)
6. HELMZ bullhorn handlebars (manufactured by Nitto)
7. Simple thumb shifter for finger-tip operations
8. HELMZ Xero wheels
10. Semi-block tires equipped with reflector lines
11. Pedals manufactured by Mikashima
12. Aero-shaped seat post manufactured by Mike
13. Ten-speed Shimano 105 gears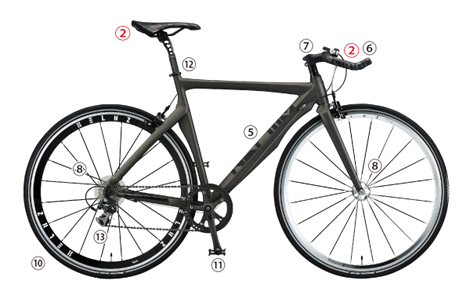 [Features of the HELMZ H10]
Standard and inexpensive model equipped with 700C sized wheels, nine-speed gears and flat handlebars.
5. HELMZ original aero frame (aluminum)
7. Simple thumb shifter for finger-tip operations
9. HELMZ wheels with a rim height of 30mm
10. Semi-block tires equipped with reflector lines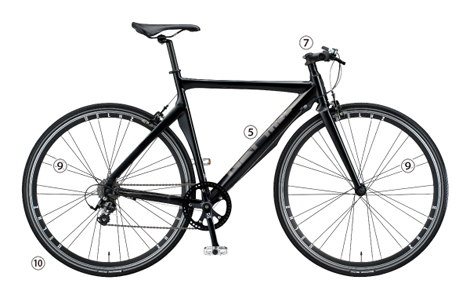 [NEW] [Features of the HELMZ H65]
Compact, lady-friendly model equipped with 650C sized wheels, nine-speed gears and flat handlebars.
1. [New] 480mm compact model fitted with 650C sized wheels
5. HELMZ original aero frame (aluminum)
7. Simple thumb shifter for finger-tip operations
9. HELMZ wheels with a rim height of 30mm
10. Semi-block tires equipped with reflector lines