Bridgestone Cycle Co., Ltd. (president: Yuji Takeuchi) will release on nationwide sale on April 01 three new colors that even dad will like in the handsome HYDEE.B motor-assisted bicycle equipped with a child seat lineup that was released in June of last year as part of a joint-development project with the ladies' magazine VERY, which is overwhelmingly popular with housewives in their 30s.

The HYDEE.B was jointly developed from zero together with the VERY editorial team from the frame through to the child seat to provide a fashionable bicycle without reducing the safety elements. The concept that was arrived at after countless meetings with readers was a handsome bicycle that could be ridden by moms and dads.

The prerequisite was to provide a safe design for moms, but the sporty cruiser style favored by dads was also incorporated. A motor-assisted bicycle equipped with a child seat that is suitable for the increasing number of mums who demand a sense of fashion while transporting their children and for the increasing number of dads who are getting more and more involved in bringing up their kids.

The tough aluminum frame is a loop-shape that makes it easy for women to pedal, and it has a sporty design. The main features of the HYDEE.B include a handsome child seat fitted with a head guard and complete with two different cushion patterns, a large foot guard to protect children's feet, cruiser handlebars for a relaxed riding position and center-slick MTB tires, and it also comes equipped with optimum assistance features, such as a long-life 6.0Ah battery that can be recharged between 700 and 900 times to provide powerful assistance performance, a handlebar switch fitted with a digital meter, and S.P.E.C.3., which provides finely-tuned assistance in alignment with the gears. The HYDEE.B was released on sale on June 25 last year, and it reached its sales target of 3,000 units within two months and continues to sell very well.

In addition to the T.X. Matt Black and E.X. White frame colors that it has been available in up until now, three new colors that are perfect for handsome dads, consisting of T.XH. Navy, E.XH. Light Gray and E.XH. Blue Gray, have been added to the lineup for this new release. A wide range of colors were painstakingly examined by the VERY editorial team until they came up with these colors, which place the emphasis on matching up to the color schemes of clothes and are sure to be liked even by dad.


<Overview of Sales for the HYDEE.B>
Sales Area: Nationwide
Annual Sales Target: 10,000 units
Date of Release: April 01
Standard Cash Retail Price: 139,800 yen

Website: http://www.hydee-b.jp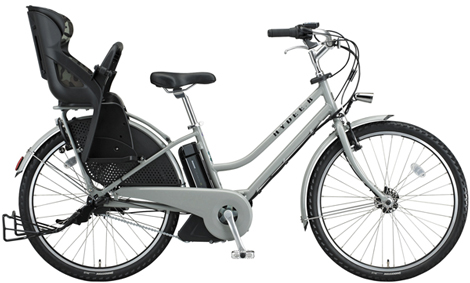 HYDEE.B E.XH Light Gray

Product Configuration

Model Code

Wheel Size (inch)

Trans
mission

Standard
Case
Retail
Price (inc. tax.)*

Lithium Ion Battery Capacity

Frame Color

Estimated Traveling Distance per Recharge (Standard Pattern)
Assistance Level
Auto Eco-Mode Plus
Standard Mode
Strong Mode

HY6L61

26

3

139,800 yen

6.0Ah

T.X. Matt Black
E.X. White
T.XH. Navy (New Color)
E.XH. Light Gray (New Color)
E.XH. Blue Gray (New Color)

30km

26km

22km
* The standard cash retail prices include the standard 7,350 yen (inc. Tax) recharging unit.

<New HYDEE.B Colors>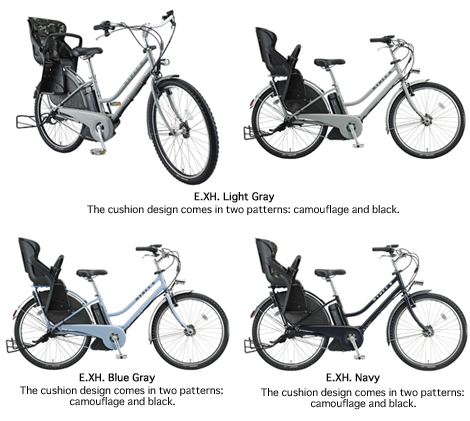 [HYDEE.B Features]
1. A tough aluminum loop-shaped frame that is easy for women to pedal
The top part of the frame is loop-shaped so that women have no trouble pedaling, and the lower part is straight to provide its sporty form. It has been designed with an approximate 30% increase in rigidity in comparison with normal frames* to provide durability and prevent twisting and wobbling.
* In comparison with our class 18 frames.

2. Cruiser handlebars for a relaxed riding position
Cruiser-type handlebars produced especially for the HYDEE.B to enable a relaxed and comfortable riding position.

3. Center-slick MTB tires able to support additional weight without trouble
The 26-inch x 1.95HE MTB tires boast abundant air volume to support the additional weight of children without trouble. The center-slick surface also provides a light and comfortable ride.

4. Handsome child seat equipped with two cushion patterns
A newly-developed child seat that aims at both a sense of design and safety. Conforming to SG standards, the seat is equipped with an adjustable head guard and footrests, etc., that can be adjusted in accordance with growth. Using a design that makes the best use of curves, the cushion has also been designed in three patterns; camouflage, red and black. Each model comes equipped with two patterns depending on the frame color; camouflage and red for T.X. black matt frames, camouflage and black for E.X. white frames, and camouflage red for F.X active red frames. The seat can be used by children between the ages of two and six with a height of 115cm or less and a weight of 22kg or less.

5. Large foot guard fitted with wind ventilation holes to protect children's feet
A large foot guard fitted with wind ventilation holes to protect children's feet in times of emergency comes as standard equipment.

6. Temoto de Lock II to prevent toppling
The Temoto de Lock II avoids the risk of the bicycle toppling over owing to the unexpected rotation of the handlebars when parked or when unloading baggage. Color-coordinated in black.

7. Super Raku-raku Wide Stand to prevent toppling
The wide Super Raku-raku Wide Stand prevents the bicycle from toppling over when parked. The stand can easily be activated even when children are still on the bicycle with the application of the pivot and lever principle.

8. White Flash Mini 1W LED Tentomushi lamp
A bullet-shaped lamp LED lamp that does not require batteries and lights up automatically is fitted to the front wheel. With 1W output, it brightly illuminates the surface of the road.

9. Aluminum pedals with imbedded reflectors
The pedals are made of aluminum and are imbedded with reflectors to secure them firmly in place and provide a smart appearance.

10. Easy-to-release circle lock
The BS Lock III is a circle lock equipped with an dimple key consisting of a thick and strong back to prevent theft that is fitted to the rear carrier. It can be released easily from behind when parked.

11. Main switch equipped with a digital meter
Battery capacity is displayed in units of 10% down until 20% remains, and then in units of 1% for the remaining 20%. The switch alternates between this and the speed display to eradicate anxieties over remaining battery capacity and estimated time of arrival to provide an even higher sense of security.

12. Long-life battery for a life span approximately double that of conventional batteries
Enabling between 700 and 900* recharges, this long-life battery has approximately double the 350 to 450-recharge life-span (at the time of replacement) of conventional batteries to double the total amount of traveling distance. This which provides an economical purchase from the point of view that the total traveling distance is doubled, which represents a full replacement battery over conventional models, on a single charge.
* This figure is a yardstick. The conditions under which this yardstick was established involve an annual recharge count of 200 cycles when used in the standard pattern at a temperature of 25 degrees Celsius. (1 cycle = a full charge after the battery has been allowed to run out.)

13. S.P.E.C.3 providing finely-tuned assistance in alignment with the gear
Uses the S.P.E.C.3 (Shift Position Electric Control + built-in 3-speed gears) function to provide superior assistance power. The speed sensor enables the drive unit to detect the gear and speed. This controls the ultimate level of assistance power in alignment with each of the three gears. Simply change gears when riding up inclines, and this function will provide the ultimate cycling experience by providing the maximum amount of assistance power.

14. The Auto Eco Mode Plus in which the assistance power is automatically selected in accordance with all traveling scenarios
When [Auto Eco Mode Plus] is selected from the three assistance modes that determine traveling performance, pressure on the pedals is automatically detected to provide automatic control over the assistance power. This provides the perfect support by applying power when needed and by saving battery power when not needed under all conditions, including when riding up steep gradients, when riding into head winds and when on extended journeys. In addition, it is also possible to select either the [Strong Mode] for increased power and the [Standard Mode] that makes the best use of both power and distance.

15. Drive unit with an aluminum housing
Uses a drive unit with an aluminum housing to improve durability, power and noise suppression performance.

16. Warranty on main parts
A warranty on main parts has been added for peace of mind, with a two-year warranty on the battery and a three-year warranty on the frame, the front forks and the drive unit.

17. Complete with a carefree accident insurance package and a three-year theft compensation package
The bicycle comes complete with a compensation service package to cover injuries in the event of accidents while cycling, and a three-year theft compensation package. In the event of the bicycle being stolen, 70% of the standard cash retail price will be discounted off a new bicycle as compensation.

18DFitted with the BAA (Bicycle Association Authorization) Mark
This model conforms to the BAA (bicycle safety standards) enacted by the Bicycle Association. The new BAA standards enacted in 2008 require that no parts contain toxic substances that can have adverse effects on the global environment.
http://www.baa-bicycle.com/index.html

19. Optional square basket
Two types of the special optional basket are available; with in steel with a black coating and the other stainless steel. The bicycles are fitted with lamp brackets as standard equipment. When the basket is attached, detach the lamp from the standard bracket and attach it to the basket bracket.

20. Converts into a cruiser-style motor-assisted bicycles
The bicycle can be used as a motor-assisted bicycle after children have grown too old by detaching the child seat.

21. The naming of the HYDEE.B
The name of this bicycle was suggested by the VERY editorial team as a name that would make it sound as familiar as a member of the family. The [B] for [Bike] was added to the name to express a handsome feminine image that lies easy on the ear and is friendly.


<HYDEE.B Specification Sheet>
1. A tough aluminum loop-shaped frame that is easy for women to pedal
2. Cruiser handlebars for a relaxed riding position
3. Center-slick MTB tires able to support additional weight without trouble
4. Handsome child seat equipped with two cushion patterns
5. Large foot guard fitted with wind ventilation holes to protect children's feet
6. Temoto de Lock II to prevent toppling
7. Super Raku-raku Wide Stand to prevent toppling
8. White Flash Mini 1W LED Tentomushi lamp
9. Aluminum pedals with imbedded reflectors
10. Easy-to-release circle lock
11. Main switch equipped with a digital meter
12. Long-life battery for a life span approximately double that of conventional batteries
13. S.P.E.C.3 providing finely-tuned assistance in alignment with the gear
14. The Auto Eco Mode Plus in which the assistance power is automatically selected in accordance with all traveling scenarios
15. Drive unit with an aluminum housing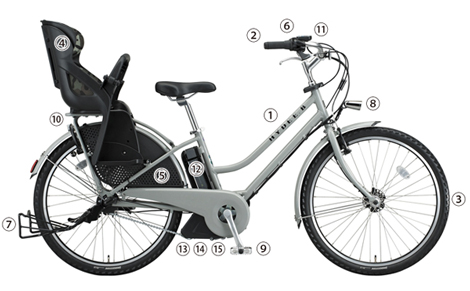 [Main Specifications]
Product Name

HYDEE.B

HY6L61

Size
Wheels (inches)

26

Tire Size

26×1.95HE

Overall Length (mm)

1835

Overall Width (mm)

560

Saddle Height (mm)

765-900

Wheelbase Distance (mm)

1165

Bicycle Weight

29.8kg

Motor Performance
Assisted Speed Range

Less than 24km/h

Model

Brushless DC System

Assistance Drive

3-mode Assistance (Strong, Standard and Auto Eco Mode Plus)

Assistance Level *1

Assistance Control

S.P.E.C.3 Mounted

Handlebar Switch

Main switch with digital meter

Carefree Battery Light System *2

Standard Equipment

Rated Output

240W

Assistance Control System

Pedal Strength Comparison Control

Housing

Aluminum

Continual Traveling Distance
(Standard Pattern) *3
Strong Mode

22km

Standard Mode

26km

Auto Eco Mode Plus

30km

Yardstick for Battery Replacement and Number of Charges

700 to 900 charges

Battery
Model

6.0Ah Long-life Battery (6.0Ah Lithium Ion)

Capacity *4

6.0Ah 25.2V

Recharger
System

AC100V Stand System

Recharging Time

Approx. 3 hours

*1 The assistance level represents the assistance output. Slight differences are apparent between models. *2 The light system is safe in that the light remains on even when the switch to the assistance unit has been turned off. *3 The standard pattern represents repeated cycling at a predetermined speed along two areas of flat road for 1km and up and down a hill with a 4-degree gradient for a total of 4km. The traveling distance data is based on our own data under the conditions of the battery being new, the ambient temperature being 20 degrees Celsius, the load on the bicycle being 65kg (the total load of rider and baggage,) the surface of the road being flat and smooth, there being no wind, with the lights being extinguished, in second gear when traveling up gradients of 7.0% (4 degrees) and in third gear for all other occasions. There are cases in which traveling distance will become shorter under different conditions and in different environments. *4 The PSE rated capacities for battery capacities are listed on the right-hand side in accordance with PSE revisions (Electrical Appliance and Material Safety Law.) 6.0Ah listings represent 5.7Ah listings.