Bridgestone Cycle Co., Ltd. (President: Yuji Takeuchi) has developed the L5 cross bike as part of the ordina casual sports brand line-up in order to offer compact 20-inch wheels and high-pressure tires for light and smooth cycling, which will be released on nationwide sale on January 31.

Sports bicycles are now widely used as a fun form of commutation and recreation during free time owing to an increased awareness of ecology and the high cost of gasoline. However, the hurdle is still too high for users who are used to riding lightweight bicycles for shopping. In the hope that we can get people to realize the fun involved in sports bicycles, we released the ordina casual sports brand in January 2010 as a cross bike series that can easily be used for a wide range of purposes, from weekend cycling through to everyday use.

In addition to the original line-up consisting of the S Series, which provides speedy cycling, the E Series, which is equipped with suspension that provides speed and comfort, and the M Series, which is a mountain bike equipped with suspension, the 2012 L Series is fitted with compact 20-inch wheels.

The L5 model in the newly-developed L Series is equipped with an aluminum frame designed with a stable wheel-base to maintain a slightly forward posture when cycling as well as compact 20-inch wheels, and fitting it with high-pressure tires in the same way as with the S Series has enabled light and sporty cycling. This model has more frame colors than any of the models in the entire series at five, and an attractive design has been achieved by coordinating the colors of the parts to the color of the frames. It has also been fitted with an LED battery lamp and a wire lock as standard accessories to make it easy to use on daily chores. It is also a very safe model, conforming to the BAA (bicycle safety standards) enacted by the Bicycle Association in the same way as the other models in the series.


<Overview of Sales for the 0rdina L5>
Sales Area: Nationwide
Annual Sales Target: 1,500 units
Date of Release: January 31
Standard Cash Retail Price: 54,800 yen(including tax)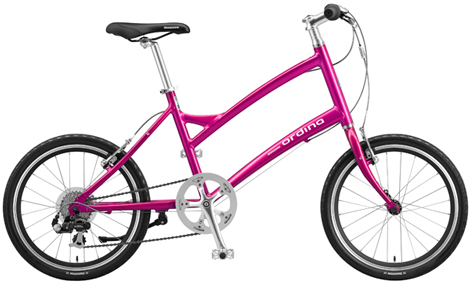 Product Configuration

ordina

Code

Wheel Size

Transmission

Standard Cash Retail Price (inc. tax.)

Frame Color

L5

DL540

20

7

54,800 yen

F. Spring Yellow
T.O Matt Black
P. Pure White
F. Glitter Purple
F. Glitter Pink


[Features of the ordina L5]
1. Aluminum RQ8 Frame
An RQ8 frame made of lightweight yet sturdy aluminum and featuring a bow-shaped top tube and down tube. A wide wheel base at the front and rear has also been firmly secured for stable cycling, and in addition to this, the bicycle has been designed with a slightly forward posture to enable safe and sporty riding.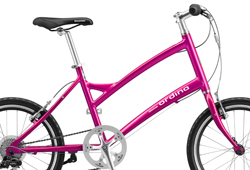 2. High-pressure Ties for Light Cycling
The high-pressure tires with a maximum capacity of 6.8 atmospheres and the center slick shape provide light and smooth cycling, and the slightly excessive thickness of the tires at approximately 40mm guarantees safe and stable cycling. (Appropriate atmospheric pressure: 5.5 to 6.8 atmospheres)



3. Compact 20-inch Wheels
The 20-inch wheels, which are both compact and provide easy cycling, contain minimal spokes to give the bicycle a sharp appearance. They are also coordinated in black and white to match up with the frame color.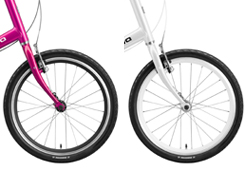 4. Easy-to-operate Grip Shift
Uses a grip shift that enables the gears to be changed easily with a twist of the wrist.
The gears can be adjusted to the most comfortable position with a single touch to suit inclines, flat surfaces and all other situations.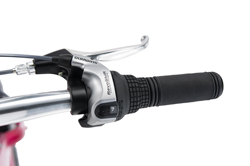 5. Shimano 7-speed Gears
Equipped with Shimano 7-speed gears, which are highly acclaimed for their performance.
These gears provide comfortable riding in a wide range of situations, such as light pedaling on sharp inclines and speedy travelling on lengthy flat surfaces.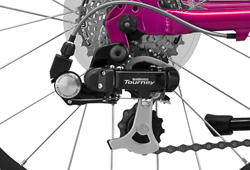 6. Gear Crank Fitted with a Safety Guard
The gear crank is fitted with a guard to prevent the chain from being dislodged and trouser hems from getting caught up in the cogs to provide easy riding in everyday situations.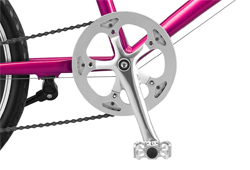 7. Roundish Sports Saddle
A soft saddle providing a firm thickness to absorb shocks from the road surface.
Designed with extra width to make it comfortable during normal cycling and to obtain the best comfort performance on long-range cycling excursions.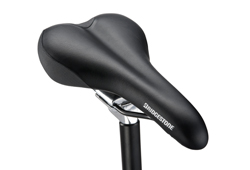 8. Color-coordinated Parts
The stem, seat pillar, outer wires, crank, wheels and other parts have been color-coordinated with the color of the frame.




9. Punched Aluminum Head Mark
Uses a Bridgestone head mark that rises out from the color of the frame.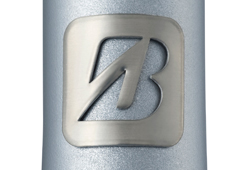 10. Center Stand
The stand folds neatly away in the center of the stand to provide a smart appearance.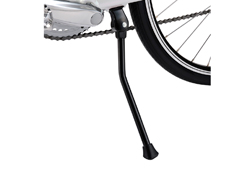 11. Slim LED Battery Lamp
A compact lamp that uses an LED and dry cell batteries and for which there is no worry about bulbs blowing has been fitted as standard equipment.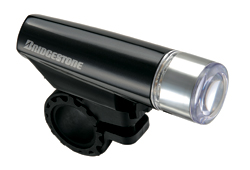 12. Wire Lock
A 60-inch wire local supplied with a spare key has been fitted as standard equipment.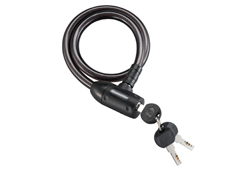 13. Fitted with the BAA (Bicycle Association Authorization) Mark
This model conforms to the BAA (bicycle safety standards) enacted by the Bicycle Association. The new BAA standards enacted in 2008 require that no parts contain toxic substances that can have adverse effects on the global environment.
http://www.baa-bicycle.com/index.html





[ordina L5 Specification Sheet]
1. Aluminum RQ8 Frame
2. High-pressure Ties for Light Cycling
3. Compact 20-inch Wheels
4. Easy-to-operate Grip Shift
5. Shimano 7-speed Gears
6. Gear Crank Fitted with a Safety Guard
7. Roundish Sports Saddle
8. Color-coordinated Parts
9. Punched Aluminum Head Mark
10. Center Stand
- Slim LED Battery Lamp
- Wire Lock
- Fitted with the BAA (Bicycle Association Authorization) Mark