Bridgestone Cycle Co., Ltd. (President: Yuji Takeuchi) will release on nationwide sale from the end of December new models of the bestselling school commutation Albelt bicycle equipped with newly-developed high-illumination lamps and with enhanced levels of safety.
Haruna Kawaguchi has been chosen as our new image character, and she will be advertising these new models in television commercials.

The Albelt is a school commutation bicycle featuring an aluminum frame and a belt driver targeting junior high and high school students. It made its first appearance in 2000, and has since turned into a bestselling item that has enjoyed the support of many users over a long period of time.

It is a school commutation bicycle that uses lightweight aluminum instead of steel for the frame, a belt drive for soft and easy start-off pedaling instead of a chain, and it is equipped with puncture-resistant tires, a single-action lock that locks both front and rear wheels simultaneously, comfortable saddle and grips that absorb vibrations, brakes with enhanced braking power, a function to notify the user when the air pressure in the tires drops, and bright lamps at the front and rear, and peace of mind and safety have been added to this to provide light and easy cycling.

White Flash W Power II Tentomushi lamps with central luminance levels approximately 10% brighter than conventional models have been developed for this model change. Equipping the bicycle with brighter lamps as a standard feature has enabled Bridgestone to improve safety levels even further.

A total of nine models will be released in the easy-to-peddle L-Frame and sporty S-Frame lineups, including the Royal Eight top-class model equipped with an eight-speed transmission.


<Overview of Sales for the Albelt>
Sales Area: Nationwide
Annual Sales Target: 80,000 units
Date of Release: End of December
Standard Cash Retail Price: 56,800 yen (including tax) to 80,800 yen (including tax)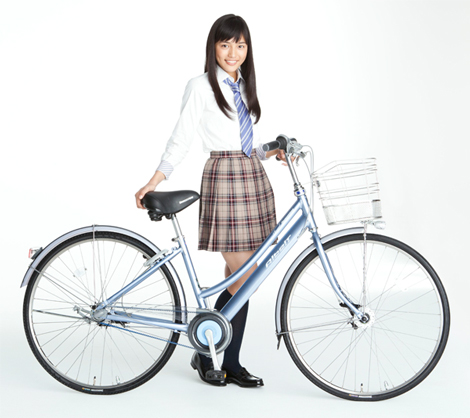 New image Character Haruna Kawaguchi with the Albelt Royal L model AR7TPL, M. Precious V Blue



Product Configuration
Model

Model Code

Wheel Size (inch)

Trans mission

Standard Case Retail Price (inc. tax.)

Frame Color

Albelt Royal Eight S Model

A78TPS

27

8

80,800 yen

M. Sparkle Silver
F. Piano Black

Albelt Royal S Model

AR6TPS

26

3

66,800 yen

AR7TPS

27

67,800 yen

Albelt Royal L Model

AR6TPL

26

66,800 yen

M. Sparkle Silver
F. Piano Black
M. Precious V Blue
P. Blue Moon White

AR7TPL

27

67,800 yen

Albelt S Model

AB6TPS

26

56,800 yen

M. Sparkle Silver
F. Piano Black

AB7TPS

27

57,800 yen

Albelt L Model

AB6TPL

26

56,800 yen

M. Sparkle Silver
F. Piano Black
M. Precious V Blue
P. Blue Moon White
M. Jewel Brown
P. Prism Purple

AB7TPL

27

57,800 yen


[New Features of the Albelt]

1. "White Flash W Power II Tentomushi" with approximately 10% more brightness than conventional models
Fitted with "White Flash W Power II Tentomushi" lamps using two high-intensity white 1W LEDs with a central luminance level approximately 10% brighter than conventional models to provide even more safety when riding at night. The lamps use LEDs, not light bulbs, so there is no worry of them blowing, and they light up automatically as soon as it gets dark even when traveling a walking speed. The lamps have a compact design and fit neatly beneath the basket.






[Features of the Albelt]

2. Lightweight and durable "aluminum Tough Frame"
The frame represents the skeleton of a bicycle, and the durable "Aluminum Tough Frame" boasts 30% increased rigidity over conventional models, resists contortions and provides stable wobble-free cycling. One of the main features with this is the fact that the wires are built into the frame for a neat and tidy appearance.
* A Class 27 rear carrier with a maximum weight capacity of 27kg can also be fitted.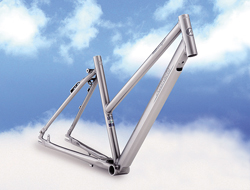 3. Floating-gear mechanism "Belt Drive"
The resin belt (made from aramid fibers that have five times more tensile strength that steel) and the floating gear mechanism (*) are not subject to rust or stretching like normal chains and therefore require little maintenance, and they make up Bridgestonefs unique belt drive system that is silent and provides lightweight start-off pedaling.

* The cogs of the gears mesh deeply into the chain with normal chain drives, but meshing with belt-driven drives is shallow, and this sometimes results in the cogs slipping along the belt when excessive force is applied to the pedals when starting off. To avoid this, we at Bridgestone developed a system of gear movement (floating gear mechanism) in which the pedaling power is automatically adjusted without fixing the gears in place.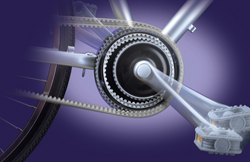 4."Ippatsu Nijyo" simultaneous front and rear double lock
When the rear wheel is locked, a connecting wire that runs through the frame head also locks the handlebars so that two locks are applied with a single touch. The lock uses a dimple key that is difficult to pick, which greatly increases theft-resistance in comparison to conventional bicycles.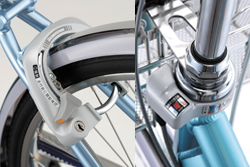 5. The double-layer "Super Comfort Saddle III" for improved comfort
The upper part is made of low-rebound cushion that fits the buttocks comfortably, and the lower part is made of urethane foam to maintain firm cushioning while riding. This double-layer structure provides enhanced riding comfort.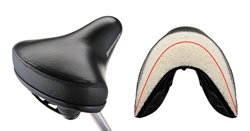 6. Comfortable to hold "Super Comfort Grips"
Made of foam to gently absorb vibrations, these grips are a pleasure to hold.

7. "Front roller brake" for enhanced safety in wet conditions
A built-in brake system that is both quiet and ensures smooth stopping even in the rain when braking performance is weakened to provide extremely high levels of safety.
* Only available with the Royal type.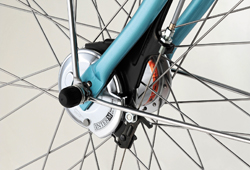 8. "The Solar Tail Lamp II" recharged by solar power
The light sensor and vibration sensor detect conditions when riding in the dark, and the red LEDs begins to flash. As these two LED lamps begin to flash, it improves visibility of at the rear and on both sides of the cycle, which consequently improves safety when cycling at night. The flashing will continue for approximately forty seconds after coming to a halt to ensure safety when waiting for traffic lights to change. A rechargeable battery using a solar panel is built into the bicycle, and it will not require replacement for a long period of time.
* Models apart from the Royal use the single LED type.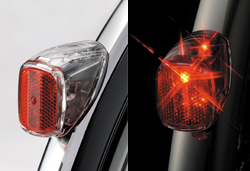 9. The air-monitoring "Kuuki Miharu-kun" function
A red indicator appears when the tires contain insufficient air pressure to inform the user at a glance that the tires need additional air. Pump up the tires until the red indicator disappears to complete the task. Maintaining suitable levels of air pressure at all times not only helps prevent punctures, it also extends the life of the tires.
* Only available with the Royal type.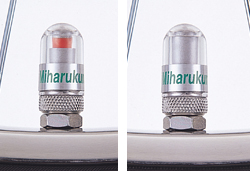 10. "Mighty Road Plus Tires" for light and easy cycling
In addition to a tread pattern that reduces roll resistance to provide a lighter ride, this tire is also equipped with a puncture protector that reduces the risk of punctures even when pierced by glass fragments or small stones.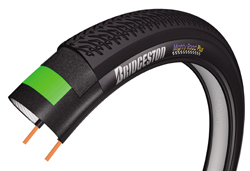 11. "Long-Life Plus Tires"
In addition to the long-life model with groove thicknesses of 3.0mm for superior wear resistance, this tire is equipped with a puncture protector that reduces the risk of punctures even when pierced by glass fragments or small stones.
* Used on the front and rear wheels of the Royal type.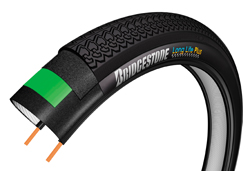 12. "Ultra Super Tubes" that resist air leaks
A highly durable inner tube with an amazing thickness of 1.5mm to prevent punctures and resist against air leaks.

13. "Non-Slip Pedals"
The surface of these pedals is coated with a non-slip material to enhance pedaling grip.
* Only available with the Royal type.

14. "Three-year theft compensation package"
The bicycle comes complete with our three-year bicycle theft compensation campaign, which guarantees that in the event of the bicycle being stolen the victim will be compensated with the same or similar model for a compensation handling charge of just 3,150 yen (including tax.)

15. Fitted with the BAA (Bicycle Association Authorization) Mark
This model conforms to the BAA (bicycle safety standards) enacted by the Bicycle Association. The new BAA standards enacted in 2008 require that no parts contain toxic substances that can have adverse effects on the global environment.
http://www.baa-bicycle.com/index.html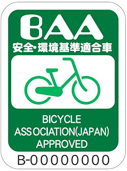 [Albelt Specification Sheet] * Albert Royal Specifications
1. "White Flash W Power II Tentomushi" with approximately 10% more brightness than conventional models
2. Lightweight and durable "aluminum Tough Frame"
3. Floating-gear mechanism "Belt Drive"
4."Ippatsu Nijyo" simultaneous front and rear double lock
5. The double-layer "Super Comfort Saddle III" for improved comfort
6. Comfortable to hold "Super Comfort Grips"
7. "Front roller brake" for enhanced safety in wet conditions
8. "The Solar Tail Lamp II" recharged by solar power
9. The air-monitoring "Kuuki Miharu-kun" function
10. "Mighty Road Plus Tires" for light and easy cycling
11. "Long-Life Plus Tires"
12. "Ultra Super Tubes" that resist air leaks
13. "Non-Slip Pedals"
* Three-year theft compensation package
* Fitted with the New BAA (Bicycle Association Authorization) Mark