Bridgestone Cycle Co., Ltd. (President: Yuji Takeuchi) has completed the Jitensha Joshikai (Girls' Bicycle Club) at the Bike Forum Aoyama (Jingu-mae, Shibuya-ku, Tokyo) for the community of girls who enjoy cycling for health and for keeping fit, and a related website will be opened on April 28 (Thursday.)

Cycling is a pastime to which girls have yet to grow accustomed. However, as it places very little burden on the body and provides long periods of effortless exercise, it is an extremely effective method of maintaining health, keeping fit and losing weight. We therefore establish the Jitensha Joshikai (Girls' Bicycle Club) at the Bike Forum Aoyama as a community to promote the attractiveness of cycling to girls who are thinking of taking up this beneficial pastime.

This girls' club will hold various events at the Bike Forum Aoyama to help girls open their eyes to the health benefits of cycling, such as the After Six Workshops and Day Off Riding events. We will also host a website that will answer all of the questions girls have about selecting the right bicycle, the best way to ride bicycles and information of body care, etc., in order to promote the attractiveness of cycling. Rental bicycles are also available so that anyone can take part in these events with an easy mind.
We have also organized a special tour that will take part in the Cycle Mode Shimanami Island Ride 2011 on September 18 (Sunday.) This tour will provide the opportunity to participate in the Casual Sports Bike Ordina S5 monitoring campaign, and it is perfect for people who do not own sports bikes.

The Bike Forum Aoyama hosts exhibitions of Bridgestone Cycle's newest models and other events related to bicycles for the purpose of promoting the attractiveness of using bicycles for healthy lifestyles and a new style of bicycle culture throughout the whole country.

< Outline of the Jitensha Joshikai (Girls' Bicycle Club) at the Bike Forum Aoyama >
(1) Event Speakers
Masami Morita, Yu Misaki, Urara Shibata, Tomoko Uchikawa, Tetsuya Imi and Yugo Anada
(2) Website: www.bscycle.co.jp/jj/
Answering all girls' questions. Providing information on events, workshops and riding event reports, etc.
(3) After Six Workshop
A total of five times on May 18 (Wednesday,) June 8 (Wednesday,) July 13 (Wednesday,) August 17 (Wednesday,) and September 7 (Wednesday.)
(4) Day Off Riding Events
A total of four times on May 21 (Saturday,) June 18 (Saturday,) July 30 (Saturday,) and August 27 (Saturday.)
(5) Cycle Mode Shimanami Island Ride 2011 Challenge Tour
Take part in the Cycle Mode Shimanami Island Ride 2011, held on September 18 (Sunday,) that runs along the Shimanami coastal road. The Casual Sports Bike Ordina S5 monitoring campaign will also be held for participants of this tour.


<Outline of the Bike Forum Aoyama>
Address: 3-1-26 Jingu-Mae, Shibuya-ku, Tokyo
Six minutes walk from exit No.3 of the Gaien-Mae Station on the Ginza Metro Line.
Tel: 03-6438-1971
Business Hours: 11:00 to 19:00 (excluding Sundays and National Holidays)
URL: www.bikeforum-aoyama.jp/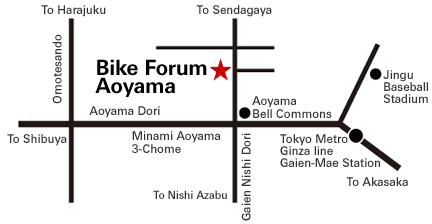 Reference Materials
(1) Event Speakers


Masami Morita
Former professional bike racer

I first started riding MTBs owing to an invite from a friend, and before I knew what was happening I was on the road to being a racer. This resulted in me winning and receiving awards from MTC, cyclo-cross and road race events. I signed up with the Team Bridgestone Anchor in 2008, and retired from racing in 2010. I am still involved in spreading the word about the attractiveness of bicycles and cars.
Yu Misaki
Model and actress

I rode my first road bike during an event in Awaji-shima as part of my work, and completed a 60km course. That got me hooked on road bikes, and I completed the 130km course during Shimanami Island 2010 last year. I currently work as a PR character for bicycle-related magazines and events, and as a model for the Anchor Sports catalog.
Urara Shibata
Dietician and health & exercise trainer
Meiji Co., Ltd., Savas Sports and Nutrition Laboratory staff member

A sports nutrition specialist providing support for athletes aiming at improving their performance. Provides the same support at races and events while acting as a nutrition trainer for J-League soccer players, professional golfers and the Team Bridgestone Anchor.
Tomoko Uchikawa
F.I.G bike staff member

A staff member of F.I.G Bike, which has stores in Harajuku and Daikanyama. The store in the fashionable Daikanyama stocks a wide range of casual wear and attracts a large number of female customers. These stores are highly acclaimed for providing advice to a wide range of people, from fashionable riders through to serious riders, and providing easy-to-understand explanations.
Tetsuya Imi
President of Azuma Sangyo Co., Ltd.

The mention of the word "saddlebags" immediately brings to mind Ostrich, the nation's top brand of front and carrier saddlebags. Azuma Sangyo Co., Ltd. is the manufacturer and seller of this brand. Tetsuya Imi travels around giving lectures on bicycle touring know-how and manners, and acts as a guest speaker to enhance the experience of touring.
Yugo Anada
Masseur for Anma Massage

Although I had no experience in cycling, I saw the Tour de France on television, and this encouraged my interest in the sport and led to me wanting to become a masseur specializing in the field of cycling. Having graduated from an acupuncture massage school, I joined the Team Bridgestone Anchor to learn the ropes and became the team's massage specialist when I was 26.

(2) Website: www.bscycle.co.jp/jj/
A website for answering all of the questions women have about cycling from event information. Contents [Beauty]: Provides information on the correct methods of riding, diet and self-massaging, etc., in order to maintain beauty. Also, on the [Shape: Style] page we have information on everything from selecting the most suitable bicycle through to the correct methods of riding and fashion coordination techniques. Detailed reports on After Six Workshops and Day Off Riding Events together with interviews and other information will also be regularly updated.

(3) After Six Workshops. Venue: Bike Forum Aoyama
The After Six Workshops can be attended with no special preparations on your way home from work. The first session consists of seminars by guest speakers in various specialist fields over a light meal. The second session is optional and will allow participants to experience exercise, stretching and self-massaging, etc., while riding the Ordina casual sports bike (ten bikes available) on fixed-base rollers. A maximum of thirty people can take part at a cost of 2,980 yen (including tax) per person, including cost of the light meal.


1st Session (19:00 to 20:00)
2nd Session (20:00 to 21:00)
No.1:
May 18 (Wed)
Speaker: Yu Misaki, Masami Morita, Tomoko Uchikawa
Contents: Starting a Bicycle Lifestyle from Today
Speaker: Masami Morita
Contents: Exercising on fixed-base rollers to learn the most effective pedaling methods for getting in shape and for long rides.
Speaker: Yugo Anada
Contents: Cycling stretch methods and self-massaging.
No.2:
Jun 06 (Wed)
Speaker: Urara Shibata
Contents: Ride and Eat for Health and Beauty
No.3:
Jul 13 (Wed)
Speaker: Tomoko Uchikawa
Contents: Solving Female Problems with High-function, Fashionable Wear
No.4:
Aug 17 (Wed)
Speaker: Masami Morita
Contents: Pedaling for Beautiful Legs: Thinner Thighs and Calves
No.5:
Sep 07 (Wed)
Speaker: Tetsuya Imi
Contents: Mastering Touring to Broaden your World. Aiming at the Shimanami Island

(4) Day Off Riding Events. Venue: Bike Forum Aoyama
A riding event that participants can attend on their days off. All events are overseen by Masami Morita, so even beginners can take part with peace of mind.
Participants may bring their own bicycles, and participants who do not own one may borrow an Ordina test bike free of charge. A maximum of thirty people can take part at a cost of 2,980 yen (including tax) per person, including cost of the light meal.


Date

Time

Cost

Course

Details

No.1:
May 21 (Sat)
09:00
to
12:00
2,980 yen
(inc. tax)
Practice Ride (approx. 6km to 10km.) The area around BFA to Icho-Namiki
Riding school at Jingu Gaien
No.2:
Jun 18 (Sat)
Shopping Ride (approx. 17km.) Round trip between BFA and Daikanyama
Shopping at F.I.G bike Daikanyama
No.3:
Jul 30 (Sat)
Tokyo Gourmet Ride (approx. 20km.) BFA to Tsukiji (lunch) and back to BFA
Lunch at Tsukiji. (Lunch to be paid by participants)
No.4:
Aug 27 (Sat)
09:00
to
15:00
4,980 yen
(inc. tax)
Mid-length Ride (approx. 50km.) BFA to Kasai Rinkai Park and back to BFA
A mid-length riding course in emulation of the Shimanami coastline
* BFA (Bike Forum Aoyama)



(5) Cycle Mode Shimanami Island Ride 2011 Challenge Tour
The scenic Shimanami coastline provides beautiful contrasts between the sky, the sea and the island, and is the sort of course that everybody wants to ride at least once. A special tour so anyone can experience the Shimanami Island Ride 2011 (Tatara Course 80 / Length of approximately 80km,) which is staged along the Shimanami coastline.
Girls who think 80km is beyond their capacity or who are thinking of taking up cycling are welcome. Simply participate in the After Six Workshops or Day Off Riding Events to shape up and get fit while having fun, and you're sure to find somebody to be your riding partner.
Masami Morita, a former bike racer who is the guest speaker for After Six Workshops and Day Off Riding Events will also be taking part in the tour. Mechanical support is also available from the Bridgestone Booth.


| | | |
| --- | --- | --- |
| Date | Event Name | Details |
| Sep 18 (Sun) | Cycle Mode Shimanami Island Ride 2011 | 80km course along the coast of Shimanami |

Cycle Mode Shimanami Island Ride 2011 Official Event Site
[Ordina S5 Casual Sports Bike Monitoring Campaign for up to a Maximum of Ten Girls] Ten people who take part in the Jitensha Joshikai (Girls' Bicycle Club) and sign up for the Shimanami Island Ride 2011 Challenge Tour will be eligible to win an Ordina S5 casual sports bike or an emeters web-linked cycle meter.



* Model, size and color cannot be specified for the monitoring campaign.



[Application Period]
April 28, 2011 (Thursday) to May 11, 2011 (Monday)
[Eligibility]
1) Girls of 18 years or older who do not own a sports bike (must reside within Japan.)
2) People who participate in the first After Six Workshop and the first Day Off Riding Event.
3) People who can participate in Shimanami Island Ride 2011, the sponsors of the top tour.
4) People who can submit a report on their opinions (more than 400 characters in length and containing at least one photograph) after having ridden the Ordina five times every month. All communication fees incurred when applying and all transportation fees incurred while taking part in the events or tour are to be covered by the applicants.
Further details will be posted on the website, which opened on April 28 (Thursday.)
www.bscycle.co.jp/jj/