Bridgestone Cycle Co., Ltd. (President: Keiji Watanabe) will host the special [Jitetsuu] exhibition promoting bicycles as the optimal method of commutation at the Bike Forum Aoyama (Jingu-mae, Shibuya-ku, Tokyo) between March 08 and April 15.

In addition to the current health boom and an increased awareness of the environment, bicycles are now attracting attention as an inexpensive mode of transportation and the number of users who take advantage of bicycles for commuting is on the increase. For this reason, the exhibition has been named [Jitetsuu], which has been coined as a hybrid phrase containing the two Japanese words "jitensha" (bicycle) and "tsuukin" (commutation.)

This special exhibition has been designed in a joint project with brand manufacturers who lead the field of bicycle fashion for the purpose of recommending Bridgestone Cycle's new models and the [Jitetsuu] lifestyle to people who are considering [Jitetsuu] at the moment.

In more detail, the [Jitetsuu] lifestyle has been coordinated in a joint project between the Japanese brand [Nari/furi], which has introduced casual cycling wear that have been optimized for comfort and that can often be seen at races and in training wear, the Japanese brand [rin project], which produces cycling goods for people who enjoy sharing their life with bicycles, and the [Rapha] brand that originated in London and targets cyclists who demand high levels of value, and features the "ViLLEtta" commutation bicycle, the "A.C.L." motor-assisted bicycle for commuting to work and school, the "ANCHOR" racing bike, the "ordina" casual sports bike, the "HELMZ" speed cruiser for cycling about town, and the fashionable "MarkRosa" bicycle for riding about town. Other items useful for commutation purposes will also be on exhibit.

The Bike Forum Aoyama hosts exhibitions of Bridgestone Cyclefs newest models and other events related to bicycles for the purpose of promoting the attractiveness of using bicycles for healthy lifestyles and a new style of bicycle culture throughout the whole country.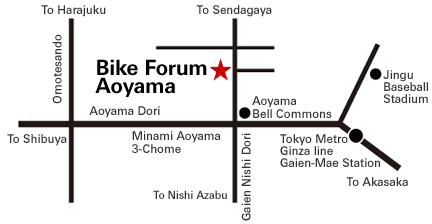 <Outline of the Special [Jitetsuu] Exhibition at the Bike Forum Aoyama>
Venue: Bike Forum Aoyama
Address: 3-1-26 Jingu-Mae, Shibuya-ku, Tokyo
Six minutes walk from exit No.3 of the Gaien-Mae Station on the Ginza Metro Line.
Tel: 03-6438-1971
Business Hours: 11:00 to 19:00 (Sundays and National Holidays)
URL: www.bikeforum-aoyama.jp/
Period: March 09 to April 15

Joint-sponsor Brands

| | | |
| --- | --- | --- |
| | | |
| nari/furi Co., Ltd. | Chat Noir, Ltd. | Rapha Japan |
| | | |