Bridgestone Cycle Co., Ltd. (president: Keiji Watanabe) has developed and will release on nationwide sale on March 15 the ViLLetta commutation bicycle that can be selected in accordance with traveling distance.

The market environment for bicycles is recently undergoing a dramatic change. In addition to an increased awareness in health and the environment, bicycles are also gathering attention as an inexpensive mode of transportation during the drawn-out recession, and there has been a marked increase in the number of people choosing bicycles as a method of commutation. This interest is gathering so much momentum that a new phrase "bicycle commutationalist" has been coined for people commuting to work by bicycle owing to the benefits of a healthier lifestyle promoted by daily cycling as well as the savings on gasoline and public transportation that it offers.

Although bicycle commutation can be covered with a single term, it actually consists of a wide range of different styles. These styles can include five-minute journeys to the nearest station through to longer distances exceeding thirty minutes, and the journeys can be made in business suits or in casual attire. The ViLLetta was therefore developed and equipped with practical equipment to match up with all cycling distances and styles. The ViLLetta series includes three different models, the Sports model, the Comfort model and the Utility model, to provide optimal support for cycling to and from work.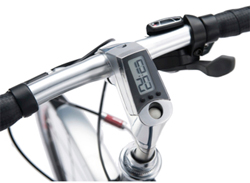 All models come equipped with the specially-designed handlebars
to provide information on time during commutation.

[Sports]
The swiftest model with 8-speed gears in consideration of traveling
times exceeding thirty minutes.

[Comfort]
The most comfortable commutation model in consideration of traveling
times of between twenty and thirty minutes with either 8-speed or 3-speed
gears and a belt drive to prevent suit trouser cuffs from becoming soiled and
a basket fitted to the front.

[Utility]
An extremely practical, general-purpose model in consideration of traveling
times of less than twenty minutes with 6-speed gears and a basket fitted to the front.

The name ViLLetta originates from the French word for "town" (Ville) and
the Spanish word for "bicycle" (Bicicleta.)

<Overview of ViLLetta Sales>
1. Sales Area: Nationwide
2. Annual Sales Target: 25,000
3. Date of Release: March 15
4. Standard Cash Retail Price: 33,800yen to 69,800yen






Product Configuration
Wheel
Size
(inch)

Transmission

Lamp

Standard Cash
Retail Price
(including tax)*

Frame Color

Sports
VS708

700C

8

Battery Lamp

69,800yen

P. Crystal Black
F. Brilliant Red

Comfort
VC73BT

27

3

Tentomushi
(switches on
automatically)

49,800yen

F. Piano Black
P. Starling White
P. Cosmic Turquoise
F. Spring Lime
VC78BT

8

64,800yen

Utility
VU66

26

6

Dynamo Lamp

33,800yen

E. Black
P. Starling White
M. Jewel Dark Blue
F. Spring Pink
VU76

27

34,800yen

VU66T

26

Tentomushi
(switches on
automatically)

36,800yen

VU76T

27

37,800yen

[Features]
1. Handlebar stem with fitted clock
The handlebar stem is fitted with a clock that can also be switched across to display a calendar. Fitted with a backlight so that it is visible when dark, the display will allow the time to be checked even at night.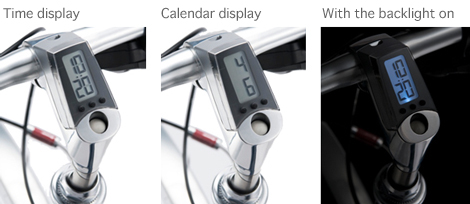 2. The Sporty Belt that provides a sense of sportiness when cycling.
* The Sporty Belt is only available on the Comfort model.
The main feature of the belt drive is that it is practically maintenance-free and does not need lubricating, nor is there any danger of it slipping off the drive. Another feature is the Sporty Belt, which was developed to provide a sense of sportiness when cycling. Combining the tension adjustment mechanism and the gear crank together has also provided a smaller external appearance to make it seem smarter than conventional models.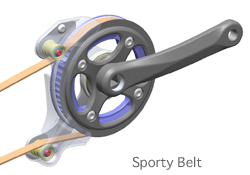 3. Equipped with practical equipment
Fitted with a wide range of practical equipment, such as mudguards that protect the rider from splashing rainwater and mud, a rear carrier for carrying goods, tires that are able to resist punctures, and a two locks to prevent theft.

4. Complete with a three-year bicycle theft compensation plan for peace of mind
The bicycle comes complete with our three-year bicycle theft compensation campaign, which guarantees that in the event of the bicycle being stolen the victim will be compensated with the same or similar model for a compensation handling charge of just 3,150yen (including tax.)

[Features of the Sports Model]
Targeting casual and stylish users who cycling for more than about thirty minutes (approximately 8km or more,) this model is the swiftest of the three models boasting both speed and practicality with 700C wheels that offer the same levels of speed performance as road bikes and fitted with mudguards, a stand, a lamp and a rear carrier.
(1) Handlebar stem with fitted clock.
(2) A frame design with enhanced speed when the rider is leaning slightly forward.
(3) Inter-crossed aluminum frame designed in a sporty style.
(4) 700C wheels for improved speed performance.
(5) Bullhorn handlebars for which the location of the grips can be changed in accordance with cycling style.
(6) Externally-positioned 8-speed gears manufactured by Shimano for smooth gear-changing performance.
(7) A simple gear cover with a superior design to prevent trouser cuffs from getting caught.
(8) Semi-block original block patterned tires that are durable against spike punctures.
(9) A special rear carriers for carrying goods.
(10) Sporty mudguards that do not detract from the external appearance of the bicycle.
(11) Compact LED battery lamp.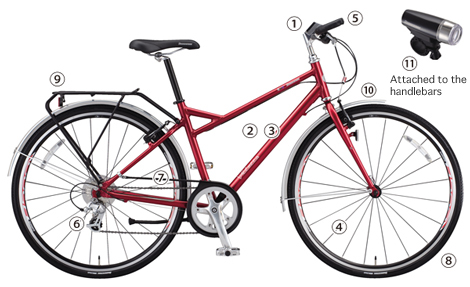 VS708



[Features of the Comfort Model]
A comfortable commutation models that is both practical and comfortable to ride targeting office and school commuters who commonly cycle between approximately twenty and thirty minutes, equipped with a basket for carrying business bags and with a sporty belt that is practically maintenance-free for enhanced comfort.
(1) Handlebar stem with fitted clock.
(2) A frame design that enables easy riding so that the shoulders do not feel uncomfortably tight when wearing suits.
(3) A sporty, inter-cross aluminum frame.
(4) A simply-designed front basket with plenty of room for business bags.
(5) Fitted with the Sporty Belt, which provides a sense of directness for sporty cycling.
(6) Built-in 3-speed or 8-speed gears manufactured by Shimano for smooth gear-changing performance.
(7) Mighty Road Plus tires with a back protector to reduce the risk of spike punctures.
(8) LED White Flash Mini 1W Tentomushi lamp (hub-dynamo) that does not require batteries and that is illuminated automatically.
(9) The front wheel has an individual form that places the emphasis on design with a specially-woven style of spokes.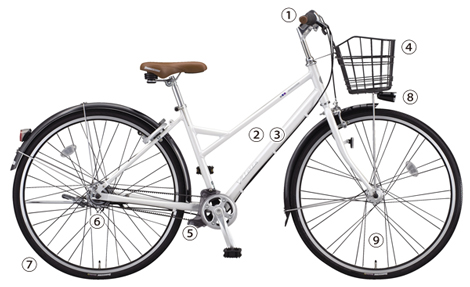 VC73BT



[Features of the Utility Model]
The most general-purpose and practical commutation model with an inexpensive price targeting all types of short-distance commuters who need to cycle for twenty minutes (approximately 5km) or less.
(1) Handlebar stem with fitted clock.
(2) A frame design that enables easy riding so that the shoulders do not feel uncomfortably tight when wearing suits.
(3) An easy-to-pedal inter-cross aluminum staggered frame.
(4) A simply-designed front basket with plenty of room for business bags.
(5) Externally-positioned 6-speed gears manufactured by Shimano for smooth gear-changing performance.
(6) A semi-transparent chain case to prevent trouser cuffs from getting soiled.
(7) LED White Flash Mini 1W Tentomushi lamp (hub-dynamo) that does not require batteries and that is illuminated automatically, or an LED new White Flash Dynamo lamp (block dynamo.)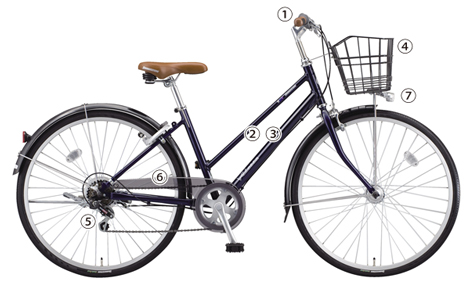 VU66T