Bridgestone Cycle Co., Ltd. (president: Keiji Watanabe) will release on the market the Ordina S8cb sports bicycle Equipped with a newly-developed carbon belt mechanism at the end of December 2010. The Ordina is a Bridgestone sports bike designed for people who are thinking of starting sports cycling, and this one will be released on the market equipped with a newly-developed carbon belt mechanism as part of the S series, which places the emphasis on cycling comfort.

<Background to the Development of the Ordina S8cb>
Sports bicycles are currently being widely enjoyed as tools for both commuting and for leisure owing to the ecology boom and because of the high cost of gasoline. However, sports bicycles in general must be maintained on a daily basis, including making sure that they are properly oiled to prevent rust and to ensure optimum performance. And, guaranteeing levels of maintenance this high erects a high hurdle for people who are thinking of beginning to ride sports bikes. By developing a drive mechanism using non-metallic carbon that does not require oiling for the main belt and by employing a maintenance-free, built-in, multi-speed transmission for the rear gears, the Ordina S series, which places the emphasis on comfort, provides sports bicycles with which comfortable riding performance can easily be maintained.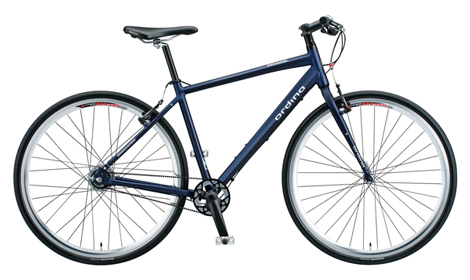 T.Shields Blue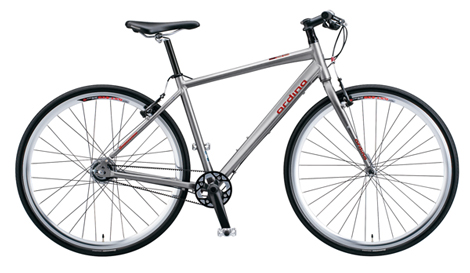 M.Precious Silver



< Features of the Ordina S8cb>
1. A newly-developed "carbon belt" mechanism that is simple and does not require oiling
The belts on the drive mechanisms of regular lightweight bicycles contract greatly and require a tension mechanism to control tensile forces, and for this reason they are not really suitable for sports purposes. To overcome this problem, the high-tension belt on the Ordina is made of carbon and does not require a tension mechanism, yet it provides the same riding sense as sports bicycle that use chains. A compact gear crank has also been developed to make the bicycles lightweight and exude a smart sporty appearance.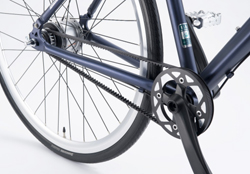 Carbon Belt Mechanism



2. Maintenance free, built-in, 8-speed transmission
Regular bicycles with multi-speed transmissions must be oiled in the same way as chains and have the mechanisms finely adjusted in order to maintain performance. The new Ordina S8cb uses a maintenance free, built-in, 8-speed transmission in combination with a carbon belt mechanism to enable riding performance to be maintained at all times.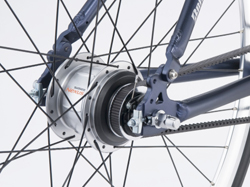 Built-in 8-speed Transmission



3. "Aero-rims" and "Distanzer tires" for supporting the wheels when cycling
Wheels have an enormous effect on cycling performance with sports bicycles. The new Ordina now provides light and easy cycling with the use of large wheel aero-rims that reduce air resistance and Bridgestone's original sports bike tires, the Distanzer tires.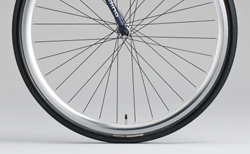 Aero-rims and Distanza Tires



<Overview of the Ordina S8cb>
1. Product Name: Ordina S8cb
2. Product Configuration and Price
Code

Frame Size

Transmission

Standard Cash Retail Price (including tax)

Color
Weight

TS8B42

420mm

Built-in 8-speed

89,800 yen

T. Shields Blue
M. Precious Silver
11.6kg
(420mm)

TS8B48

480mm

3.Sales Area: Nationwide
4. Date of Release: End of December
5. Sales Target: 300