On September 01, 2010, Bridgestone Cycle Co., Ltd. (president: Keiji Watanabe) will release on the market the Assista Business bicycle, a motor-assisted bicycle for business usage with reinforced assistance power.


Background to the Release of the Assista Business
Business-use motor-assisted bicycles have been widely used for delivering newspapers, food and drinks, etc., as well as for home and business visits and patrols by care-givers, elevator inspectors, security staff and other similar professionals. The number of companies that use motor-assisted bicycles for deliveries and general movement in order to save on fuel costs and conserve the environment has also been on the increase in recent years, and this has resulted in bicycles being used to a widening range of differing purposes. We at Bridgestone will therefore release our new staggered Assista Business bicycle with reinforced assistance power and a stylish and sporty form in anticipation of increased future demand within this market.

Features of the Assista Business
1.Newly-developed Staggered Model
A newly-developed sporty frame targeting male users.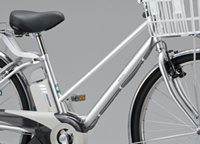 2. Reinforced Assistance Power and Improved Assistance Feeling
The assistance power on this model represents Bridgestone's top model (easy cycling level: 6 stars) Ride up hills effortlessly even when weighed down with heavy baggage. The assistance power and assistance feeling has been especially enhanced when starting pedaling and when riding up gentle gradients. This reduces the risk of toppling over when starting odd and when rising up hills to provide more stable cycling than ever before. The battery is a Lithium Ion battery with a maximum capacity of 8.1Ah.

3. Uses Highly Durable Parts to Withstand High Levels of Assistance Power
- "An Aluminum Housing Drive Unit" that both withstands high assistance power and runs silently.
- "A Built-in 3-Speed Reinforced Hub" that is structurally reinforced to withstand third gear cycling, which places the heaviest burden on the rider.
- "A Reinforced Chain" that is thicker and has improved tensile strength and durability.

4. Uses a Plate Carrier to Provide Greater Stability
Capable of carrying up to 30kg in weight. Perfect for jobs that require heavy items to be transported.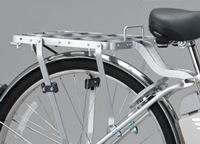 Highly Acclaimed Inherited Sales Points
1. "Steel Frame" with the Strength to Withstand the Rigors of Business Usage.
A frame designed to withstand transporting heavy loads.

2. Equipped with the Latest "S.P.E.C.3" Technology for Improving Assistance Feeling
The "S.P.E.C.3 Assistance Drive" provides the optimal assistance power in any gear.
Enhances the best levels of assistance power in every gear and provides smooth assistance power even when in low gears.

3. Uses the "Lithium Ion 8.1Ah Battery" for Economical Long-Distance Cycling
(1) The use of a 8.1Ah Lithium Ion battery enables a distance of up to 43km to be cycled with a single charge when in the "Auto-Eco Mode Plus" (standard cycling pattern,) which provides a sufficient charge for visiting clients during business usage.

Labels based on a measurement standard known as the Normal Cycling Pattern have been used up until now for possible traveling distances per charge, but as discrepancies occur with actual distances traveled in areas that contain many hills and inclines, the Bicycle Association of Japan have established a new standard, known as the Standard Pattern, that is also to be added numerically to new models. (The traveling distance in "the Auto-Eco Mode Plus" mode is 77km with the Normal Cycling Pattern.)

(2) The lithium-ion battery for which only the amount of power that has been consumed needs
.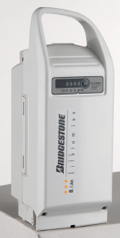 (3) The use of the easy stand-type recharger means that recharging is less
bothersome and the battery needs to be placed in position.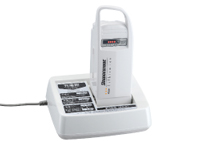 4. The assistance mode can be selected from the "Auto-Eco Mode Plus" in accordance with the cycling scenario.
(1)The use of the "Auto-Eco Mode Plus" enables the automatic assistance to
be felt when pressing on the pedals, automatically controlling the assistance power, and either provides increased assistance or saves battery power in accordance with the cycling conditions.
(2)The use of a "magnetostrictive torque sensor" enables light and easy pedaling when the power is switched off.

5. Equipped with a "White Flash W Battery Lamp" that uses high-luminance LEDs.
(1) Fitted with two bright LED lamps that clearly illuminate the road surface to improve visibility.
(2)Equipped with a "safe battery light system" that enables the battery lamp to be illuminated even when the assistance switch is switched off.

6. Fitted with a "Parking Stopper" to prevent the handlebars from swiveling around when parked.

7. Uses "V-Brakes" with high braking performance on the front wheel.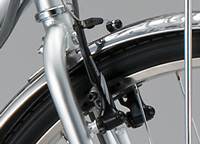 8. Fitted with the "Super Comfort Saddle II" for enhanced comfort.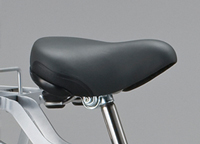 9. Equipped with two highly visible built-in "Solar Tail Lamp II" LEDs that operate on solar power and blink automatically.

10. Equipped with the "Double-Footed Stand for business use and the Single-Footed stand" for ease of use in business situations.

11. "Three Year Theft Compensation Plan" (30% of the retail cost of the bicycle provided as compensation in the event of it being stolen within the valid period.)

Overview of the Assista Business
1. Product Name: Assista Business
2. Product Configuration and Price
Model

Code

Wheel Size

Transmission

Standard Cash Retail Price
(including tax)
Frame Color

Assista Business

ABS680

26

3-speed

154,800 yen
(including the 7,350 yen recharger)
M.XR Silver

Estimated Traveling Distance Per Charge

| | | | |
| --- | --- | --- | --- |
| | Auto Eco Mode Plus | Standard Mode | Strong Mode |
| Standard Pattern | 43km | 33km | 26km |
| Normal Cycling Pattern | 77km | 52km | 40km |

The Standard Pattern may be assumed to be for areas with many hills and inclines, and the Normal Cycling Pattern may be assumed to be for areas with mostly flat roads.

Sales Area: Nationwide
Date of Release: September 01
Sales Target: 200 units (within one year of release)