At the end of July, 2010, Bridgestone Cycle Co., Ltd. (president: Keiji Watanabe) will release The LEVENA lightweight and sporty bicycle for kids as the sixth product commemorating Bridgestone's 60th anniversary.

Background behind the Development of the LEVENA
Children love riding bicycles, but they are a little heavy for them.
Removing bicycles from parking spaces and riding up even gentle slopes is hard work for them. The development of the LEVENA was therefore initiated under the concept of an unprecedented lightweight kids' bike. It has been designed in a cool, sporty style so that they can go cycling with their dads, who are sure to love sports bikes. The design also placed the emphasis on a lightweight body, which weighs a mere 7.9kg, and this resulted in the LEVANA lightweight sports bike for children.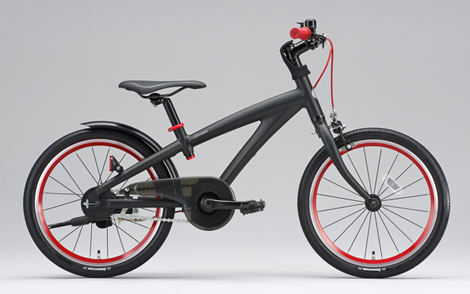 LEVENA



Features of the LEVENA
1.7.9kg lightweight sports bike
We used lightweight parts, including an aluminum frame and front forks and open-side tires, to achieve a weight of 7.9kg, which represents a reduction of approximately 4kg in comparison with our other representative children's bicycles. This enables the bike to be taken out of parking spaces and carried inside the house without excessive trouble. A child of five years old (with a body weight of 20kg) riding a 12kg bicycle (the average weight of our children's bicycles,) for example, is as difficult as an adult (with a body weight of 60kg) riding a 36kg bicycle (normal light bicycles weigh approximately 20kg.) The LEVENA weighs only 7.9kg to allow children to enjoy carefree and comfortable cycling.

2. Sporty design
We carefully selected lightweight parts that are used in the manufacture of sports bikes to encourage children to go cycling with their dads, who tend to ride sports bikes.

Utilizes a stylish, lightweight "seat tube-less aluminum frame".
Shortening the seat tube with the use of a seat tube-less frame has enabled us to give the bike an impressive outer appearance while making it lighter.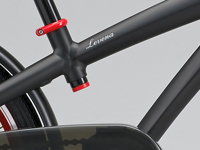 "Special sporty lightweight wheels and tires"
"The aluminum double-wall rims" provide an attractive design and are light, and they are fitted with lightweight "open-side tires".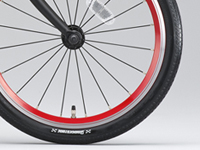 Uses "a sports-type saddle"
The lightweight saddle has a sharp design and does not interfere with peddling.
The red stripe on the saddle produces a sporty aura.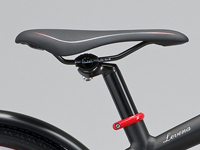 Uses "an Ahead Stem"
Use of the Ahead Stem, which is popular on sports bikes, provides a rigid height and makes the bike lighter. A special stem cover is also fitted to the top of stem to prevent injury.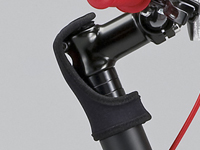 Uses "All Lounder Handlebars"
Equipped with All Lounder handlebars that provide natural, sporty positions.

"Black and red" components available for the entire bicycle
Matt black has been used for the frame and red for the rims and brake cables to produce a cool and high-class effect that adults would be proud of.

3. Fully equipped with all safety features
"Lightweight aluminum brake levers"
The aluminum brake covers are of a compact design that perfectly fits the hands of children.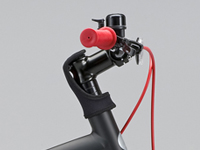 "Two-pivot caliper brakes"
Provides full braking power with a light touch.

"Chain cases" fitted as standard
Chain cases to prevent the cuffs of trousers from becoming soiled are fitted as standard.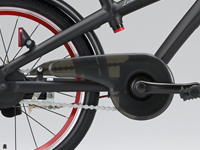 "Mudguards" fitted as standard
Mudguards that prevent splashing are fitted to the rear wheel as standard.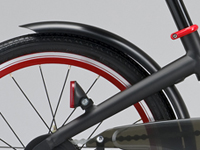 4. Optional side wheels available
Optional side wheels (safety wheels) are available for children who are not yet able to ride two-wheeled bicycles.

Overview of the LEVENA
1. Product Name: LEVENA
2. Product Configuration and Price
| | | | |
| --- | --- | --- | --- |
| Model Code | Standard Retail Price (inc. tax) | Wheel Size | Frame Color |
| LEV18 | 35,800 yen | 18 | Matte Black |
3. Sales Area: Nationwide
4. Date of Release: End of July
5. Sales Target: 1,000 units (within one year of release)