In the middle of February 2010, Bridgestone Cycle Co., Ltd. (president: Keiji Watanabe) will release the WEDGEROCK, a tough and wild urban bicycle for neighborhood chores and for commuting to school, to commemorate Bridgestone's 60th anniversary.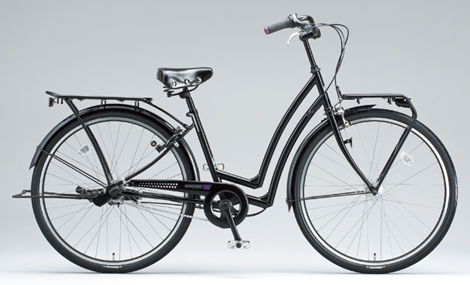 WEDGEROCK 700C



Background Behind the Sale of the WEDGEROCK
There are a large number of lightweight bicycles for commuting to work and school available (the so-called "mama-chari" bicycles,) but these are used as nothing more than a mode of transportation. We therefore decided to develop a bicycle with a wild image and cutting-edge design that is both a joy and great fun to ride, and that contains a message from the designers urging potential riders to select the bicycle that best suits their preferences. A brand new type of bicycle designed especially for men and incorporating the practicality of the simple "mama-chari" bicycles with the strength and ruggedness of cross-bikes and BMX bikes. In commemoration of our 60th anniversary, we at Bridgestone Cycle Co., Ltd. are developing commemorative products for users of all generations. The WEDGEROCK has been developed specifically for young men and represents the third stage of this campaign.

Features of the WEDGEROCK
The WEDGEROCK comes in two models:
(1) The 700C model, which has a smart design and is easy to ride.
(2) The practical 27-inch model, which is equipped with a basket as a standard fitting.

- Common Features
1. A new tough and cool design based on an image of the simple "mama-chari" bicycle.
- Incorporating the "W-Wedge Frame".
Uses a new easy-to-pedal frame with original sharp-angled curves.
- Rear carrier made of pipe and fitted with an aluminum plate.
A rear carrier with a wild design. (Maximum load capacity: 18kg)
- Metal-end grips
The ends of the handlebar grips are fitted with metal ends to provide a color accent to act as accessories.
- Uses the "Big Terry Saddle" that is both fashionable and comfortable.

2. Relaxing rides
- Promenade-type handlebars
Enables the rider to grip the handlebars from a natural position for relaxing rides.

3. Fully fitted with all practical functions
- "White Flash Mini Tentomushi" LED lights that are switched on automatically when it gets dark.
- "1-Key, 2-Lock" specifications that enable the circle lock on the back wheel to be locked and unlocked with the same key as the wire lock.
Comes complete with our "3-year bicycle theft compensation plan" that guarantees that the bicycle will be replaced with the same model or equivalent model in the event of theft for a handling charge of 3,150 yen (including tax.)
- Fitted with the fat and rugged "Fat Tires".

- Features of the 700C Model
1. Semi-slip "700C x 40C Tires"
The special tread pattern enables easy riding, and the fat ties provide stability.

2. Aluminum rims (inner black)

3. Front carrier made of pipe and fitted with an aluminum plate.
The front carrier consists of a high-design metal plate and pipes.

4. Lightweight aluminum pedals.

- Features of the 27-inch Model
1. "Wide Rectangular Basket" into which school bags and sports bags fit without trouble.

2. High-performance "Mighty Road Tires" (27 x 1-1/2) that are rugged and provide easy riding.

3. Long-lasting "Stainless Steel Rims" that resists rust.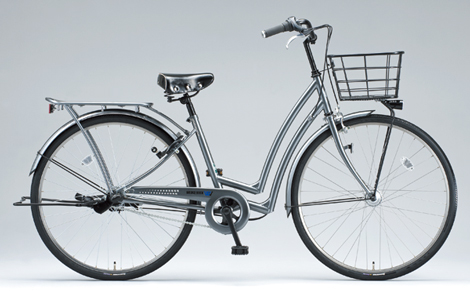 WEDGEROCK 27-Inch



Overview of the WEDGEROCK
1. Product Name: WEDGEROCK
2. Product Configuration and Price

Model
(Tire Size)

Code

Transmission

Standard Cash
Retail Price
(including tax)

Frame Color

700C

WR703T

3-speed

41,800 yen

P.X. Space Black
T.X. Matt Gray
P.X. Aurora White
E.X. Ash Blue

27-inch

WR273T

3-speed

38,800 yen

E.X. Black
M.X. Gunmetal Gray
P.X. Pure White
E.X. Ash Blue
3. Sales Area: Nationwide
4. Date of Release: Mid-February
5. Sales Target: 10,000 units (within one year of release)