From the beginning of February 2010, Bridgestone Cycle Co., Ltd. (president: Keiji Watanabe) will release on sale the fashionable JOSIS-WGN compact bicycle for women, with plenty of storage space, as one of the products celebrating our 60th Anniversary.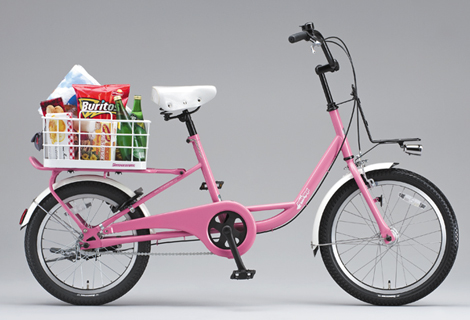 JOSIS-WGN

Background to the Sale of the JOSIS-WGN
Bicycles have been in the spotlight in recent years for being environmentally-friendly and a healthy mode of transportation. They are also gaining the attention of young ladies not only as convenient items indispensable for everyday life, but also as items for enjoying everyday life. Amid this sudden interest, we at Bridgestone Cycle Co., Ltd. head into our 60th anniversary and are bringing out new models as part of our celebrations for new generations of users. The new JOSIS-WGN has been developed for young ladies. A team of female staff spent one year completing this model (planning, layout and design) in order to cater to the requirements of women who want a fashionable bicycle that can also store plenty of shopping, and this has resulted in the development and sale of a product (= real clothes bike) that is both fashionable and practical.

Features of JOSIS-WGN
1. Fashionable Design
Equipped with "a container-type rear basket".
The absence of a front basket has produced a unique neat design.
The large-capacity basket can take oversized packages.
A cute dot-patterned basket cover is included to prevent goods falling out.
The handlebars and stem pedals have been designed in the fashionable BMX style.
Fitted with "the Terry Saddle", which is both fashionable and stable.
A range of five colors ranging between cool and cute to choose from.

2. Stable cycling, even with heavy loads
"Under-born low balance, low center of gravity frame".
Does not wobble when carrying heavy loads.
The low balance design enables smooth and easy mounting and dismounting even when wearing a skirt.
The rear wheel is a small 18-inch size to enable easy loading (the front wheel is 20-inches in size.)
The gear ratio is set to simulate the same forward motion as with a lightweight 26-inch bike for comfortable cycling.
The long wheel-base and thick tires also provide superior levels of stability.

3. Features of Other Useful
Equipped with "a front carrier" to which optional baskets can be attached.
Fitted with "the White Flash Mini Tentoumushi LED lights" that light up automatically when it gets dark.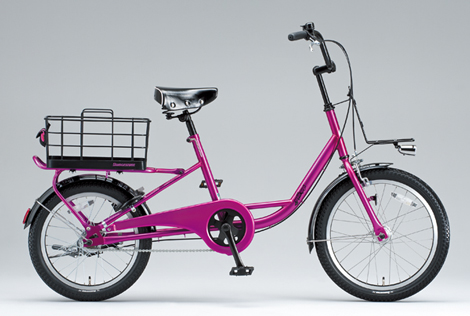 JOSIS-WGN

Overview of the JOSIS-WGN
1. Product Name: JOSIS-WGN
2. Product Configuration and Price

Code

Transmission

Standard Cash
Retail Price
(including tax)

Wheel Size

Frame Color

JS200T

Single

34,800 yen

Front 20"/
Rear 18"

P.X Pure White
F.X Glittering Pink
E.X Smokey Blue
E.X Pesca Pink
E.X Natural Olive

JS203T

3-speed gears

39,800 yen
3. Sales Area: Nationwide
4. Date of Release: Beginning of February
5. Sales Target: 10,000 units (within one year of release)