Bridgestone Cycle Co., Ltd. (president: Keiji Watanabe) will release on nationwide sale the retro-taste children's bicycle, Hacchi, on June 20. With its grown-up style and retro design, the Hacchi is perfect for fashionable young girls. A bicycle to win over even the most discerning of parents with its high sense of fashion. Although the market for children's bicycles is sluggish owing to the low childbirth figures, this children's bicycle emphasizes sensitivity in the design and provides high functionality and safety for junior baby-boomers.

Features of the the Hacchi
1. A grown-up style and retro design, perfect for fashionable young girls. Fully equipped with all safety and comfort functions.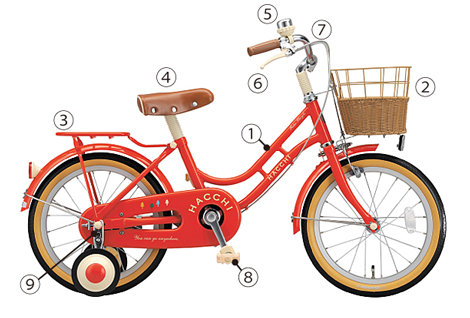 Standard Hacchi (HC16)

(1) Retro-taste "ladder frame".
(2) Fashionable "wicker basket".
(3) "Pipe-Like rear carrier" to enable assistance from behind.
(4) Retro-taste, comfortable "Terry Saddle".
(5) "Fun rotary bell".
(6) "Adjustable brake levers".
(7) "Promenade handlebars" for a relaxing ride.
(8) "Lesson Pedals II" that can be attached and removed without special tools.
(9) "Easily detachable side wheels".

2. Safety and Comfort Functions
- "Adjustable brake levers" that can be adjusted to fit the hand.
- "Promenade handlebars" to provide a relaxing riding position.

3. Equipped with the Bridgestone "Lesson Function" that enables the child to swiftly learn to ride on just two wheels after the training wheels have been detached.
In order for a child to practice with the training wheels removed, it is necessary for them to perform two difficult tasks; moving the pedals while maintaining balance.They therefore require a long time to master this skill.The Hacchi has been equipped with a "Lesson Function" based on the concept of providing a shortcut to learning to ride, in which the pedals are removed so that the child can learn to maintain balance by propelling the bicycle forward with both feet kicking the ground, and then reattaching the pedals so that they can learn to pedal.
- Equipped with the "Lesson Pedals II", which can be detached and attached at the press of a button without the use of special tools.
- "Easily detachable side wheels".
The majority of bicycles have the training wheels attached to the rear wheel axle, but the Hacchi enables them to be easily detached without having to remove the rear wheel.(Tools required.) (Comes complete with a Lesson Guide explaining the lesson methods.)Also fitted with a rear carrier that can be held from behind to provide assistance and eradicate instability.

4.Fitted with the "BAA" (Bicycle Association Authorization) Mark
This model conforms to the "BAA" (bicycle safety standards) enacted by the Bicycle Association.

5.Limited edition with special specifications also included in the line-up.
The line-up includes "a special limited model" that places the emphasis on individual and fashionable designs, such as a cannonball-type reflector fitted to the front.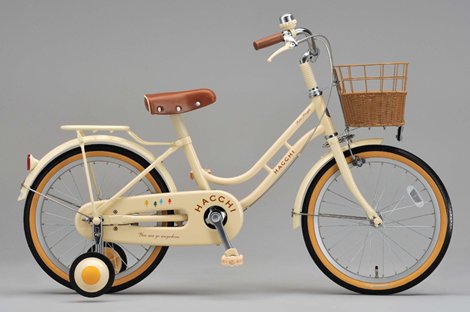 Standard Hacchi (HC16)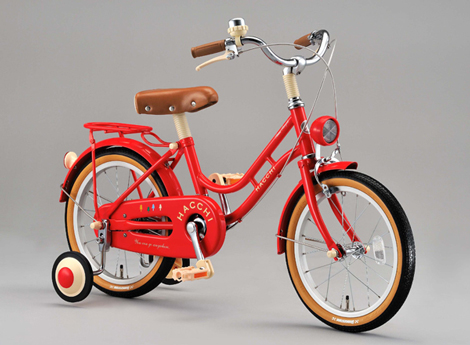 Special Limited Edition Hacchi (HC16R)

Overview of the Hacchi
1. Product Name: Hacchi
2. Product Configuration and Price


Type

Code

Wheels
Size

Standard Cash
Retail Price
(including tax)

Frame Color

Standard

HC16

16

21,800 yen


Red
Pink
Ivory

HC18

18

22,800 yen


Special Limited Edition

HC16R

16

19,800 yen

Red

3. Sales Area: Nationwide
4. Date of Release: June 20, 2009
5. Sales Target: 20,000 units (within one year of release)