Bridgestone Cycle Co., Ltd. (president: Keiji Watanabe) has been consistently upgrading its models to conform to the new assistance standards in accordance with the revisions enacted to the Road Traffic Act in December last year.
One of these models is the fashionable, compact, casual, motor-assisted VEGAS E.A., which will be released nationwide on May 20.
The VEGAS E.A. champions the cause of fashionable and environmentally-friendly lifestyles, and is part of the current Relaxy Bike Project.
It was developed for urbanites in their 20s and 30s who enjoy active lifestyles, and in addition to conforming to the new assistance standards, this model also boasts an upgrade to a lithium ion battery that allows the charger to just make up for the power consumed, in place of the previous nickel hydride battery.

This battery upgrade means that all motor-assisted bicycles manufactured by Bridgestone Cycle now use lithium ion batteries. Motor-assisted bicycles are most popular with men and women over fifty and housewives in their thirties, and the field has experienced growth exceeding 50% in the past few years. Although there has been rather a practical image on the use of motor-assisted bicycles for the above people until recently, we are also achieving success in shifting the popularity of motor-assisted bicycles across to younger age groups.
And, in order to strengthen our target consumers, we are cultivating the market amongst younger age groups even further by introducing new models. Our line-up of motor-assisted bicycles targeting all age groups is sure to bring about further expansion to the market.

Features of the VEGAS E.A.
1. Conforms to the new assistance standards
The revisions enacted to the Road Traffic Act in December last year entailed improvements to the manpower/motor power ratio of a maximum of 1:2 at low speeds of 10kph instead of a maximum of 1:1 at speeds of 15kph in the conventional mode.
This reduces wobbling and fatigue for weaker women and elderly people when riding up hills or carrying heavy loads. (Output discrepancies exist between models.)
The new VEGAS E.A. uses these new assistance standards to prevent wobbling when commencing pedaling, when traveling at low speeds, and when riding up hills, and this increases safety levels during cycling.

2. Uses "the Lithium Ion Battery 2.9"
(1) Uses a lithium ion battery with a capacity of 2.9Ah. This enables up to 30km to be traveled on a single charge when cycling in "the Auto Eco Mode Plus" mode.
(2) It is possible to recharge only the amount of power that has been consumed to reduce recharging times.
(3) The use of a ternary lithium ion battery increases output, provides superior durability, and is tougher in low temperatures.
(4) The use of the stand-type recharger means that it is less bothersome and only needs to be situated in place in the same way as a mobile telephone.

3. Includes "the Auto Eco Mode Plus" feature that enables the assistance mode to be selected in accordance with cycling conditions
(1) In addition to "the [Strong] mode" used to suppress wobbling when cycling up hills or into headwinds, the use of "the Auto-Eco Mode Plus" enables the automatic assistance to be felt when pressing on the pedals and automatically controls the assistance power. It also provides increased assistance or saves battery power in accordance with the cycling conditions.
(2) "The magnetostrictive torque sensor" enables light and easy cycling even when the battery has run out.

4.Fashionable style that is both easy and comfortable to ride
(1) The compact wheels (20-inch) and "the Long Wheelbase" frame design, which increases stability on straight stretches of road, provide a fashionable style of comfortable cycling.
(2) Featuring the raised "Delta Handlebars" and the fashionable and comfortable "Big Terry Saddle"."The fat tires" with a width of 1.95HE are the secret to a comfortable ride.
(3) "A White Flash Mini Battery Lamp" is located on the simple front carrier, which is fitted as standard.
This lamp comes equipped with "a safe battery light" that can be switched on even when the assistance switch is off.

5.Equipped with high-level, practical functions
(1) Equipped with high-performance, silent "Roller Brakes" (rear) and "non-slip pedals".
(2) A special basket, rear carrier and other items are available as options.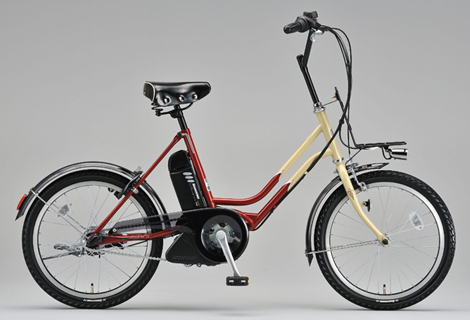 VEGAS E.A. (VG2L39)



Overview of the VEGAS E.A.
1. Product Name: VEGAS E.A.
2. Product Configuration and Price


Type

Code

Wheels
Size

Transmission

Standard Cash
Retail Price
(including tax)

Frame Color

VEGAS E.A.

VG2L39

20

Internal 3-shift

86,800 yen
(including the 7,350 yen
recharger)

Red & Beige
EX Black
EX Sand Beige

3. Sales Area: Nationwide
4. Date of Release: May 20, 2009
5. Sales Target: 2,000 units (within one year of release)