Bridgestone Cycle Co., Ltd. (president: Keiji Watanabe) will release the
Anchor Pro RHM9 Pro
full carbon road model on nationwide sale on November 15 to enhance the market for high-quality sports bikes that has been enjoying continued growth on a yearly basis owing to the popularity of bicycle road races and similar sports events. This marks the 10th anniversary since the Anchor brand was first introduced to the market, and in commemoration of this, Bridgestone Cycle will also release the premium lightweight
Anchor RHM9SL
carbon model at the same time.
Background Behind the Development of the Anchor Pro
As part of its activities to provide support for bicycle racing, Bridgestone Cycle operates the Team Bridgestone Anchor racing team that participates in races both at home and abroad.
The scientific analysis of the valuable and abundant data accumulated from daily racing activities plays an extremely useful role in the development of bicycles.
Evidence of the value of this is apparent in the new Anchor model, which has evolved even more as we head into our tenth anniversary with a new brand logo and a completely revised design.
It is our hope that this model will appeal greatly to users who aspire to racing as the nation's top-quality model with improved rigidity and forward momentum, and provide them with the opportunity to ride the bicycle that is favored by professional team racers.
* "Team Bridgestone Anchor"
Established in 1999 and currently active on the racing circuit.
Members of the team have won the All Japan Championship Road Race in 1999, 2001, 2003 and 2004.
Top Racers Currently on the Team
Makoto Iijima (Winner of the All Japan Championship Track Point Race in 2006, 2007 and 2008. Participated in the Sydney Olympics, the Athens Olympics and the Beijing Olympics. Ranked eighth in the Beijing Olympics.)
Kohei Yamamoto (Winner of the 2008 All Japan Championship MTB Cross-Country Race, and participated in the Beijing Olympics.)
Features of the
Anchor Pro RHM9 PRO
1.
Full carbon frame utilizing
a Dragon Claw Head
that improves rigidity.
(1) Head Tube: The rigidity of the pipe was increased by applying cross-sectional fluctuations in the head tube with four projections that resemble sharp claws. This suppresses twisting during dancing (standing up to pedal when riding up inclines,) and improves forward momentum, straight forward movement and braking force.
(2) Main Tube: Reinforced pipes that provide horizontal rigidity for the trapezoidal cross sections have been used as the upper and lower pipes that join the head tube, and this enables the area of the cross-sections to be reduced in size and thinner plate thicknesses to be used in order to make the frame even lighter.
(3) Chain Stays: Pipes with a diameter of 40mm have been used in the upper regions to improve rigidity at the rear.
(4) Back Forks: The forks have been made thinner to improve shock absorption, and this contributes to making the original rear end design lighter.
2.
Shimano DURA-ACE Used for the Main Components
(1) Front Derailer: SHIMANO DURA-ACE RD-7900
(2) Rear Derailer: SHIMANO DURA-ACE RD-7900-SS SIS
(3) Free Wheel: SHIMANO DURA-ACE CS-7900 12-25T 10S
(4) Gear Crank: SHIMANO DURA-ACE FC-7900 52 x 39T
(5) Brake Arch: SHIMANO DURA-ACE BR-7900
(6) Brake Lever: SHIMANO DURA-ACE ST-7900
3.
Ultra-light design of 7.0kg overall (frame size of 490mm, no pedals.)
4.
EXTENZA tires
newly developed especially for road racing.
Members of the Team Bridgestone Anchor and our tire development team spent approximately two years working on this design, and the end result is a high-performance tire with superior levels of overall balance. The dual compound reduces rolling resistance and provides high levels of grip, and it consists of a dual cap and base structure that enhances light traveling.
Special attention was paid to weight, which is an important factor for road tires, and a lightweight design of 205g was achieved.
5.
Semi-Order bicycle in which the frame size, color, handlebars and wheels, etc., can be selected separately.
(1) Frame Size: Five sizes available at 430mm, 460mm, 490mm, 520mm and 550mm.
(2) Frame Color: Choice of 30 colors available, including illusion colors that show different hues depending on the angle they are seen from, and fluorescent colors.
10th Anniversary Limited Model: Premium Lightweight
RHM9SL
Carbon Model
(1) A model based on
the RHM9
that uses high-rigidity carbon for the frame and that has had its weight reduced drastically.
An ultra-lightweight frame that is 130g lighter than
the RHM9
and falls below the 1000g mark at 970g.
A limited clear matt paint that minimizes weight increases has been used for the coating.
(2) The combination of new DURA-ACE components and lightweight parts have reduced the overall weight to 6.7kg (frame size of 490mm, no pedals.)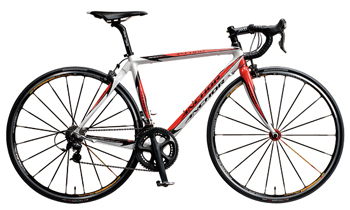 Anchor RHM9 Pro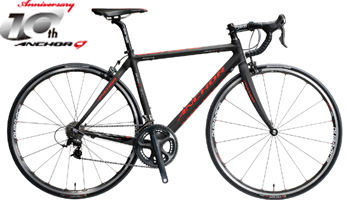 Limited Anchor Model, RHM9SL
Overview of the
Anchor Pro
1.Product Name:
Anchor Pro
2.Product Configuration and Price