On August 08, Bridgestone Cycle Co., Ltd. (president: Keiji Watanabe) will release on nationwide sale the motor-assisted
RealStream
high-function sports bike aimed at active men for use when cycling, commuting to work, and other purposes.
Background behind the Development of the RealStream
Motor-assisted bicycles have been enjoying sales growth levels that exceed 10% annually for four consecutive years, and they are especially popular amongst people of 50 and upwards and housewives with small children in their 30s owing to the fact that they are easy to ride.
Although sales of motor-assisted bicycles have centered on their practicality, we began to release a series of models that exude a sense of fashion since last year in the hope that we can cultivate demand amongst a younger target group of people in their 20s and 30s. Male users tend to worry about long-distance bicycle travel, so we developed a high-function sports model for active men who feel that motor-assisted bicycles lack in functionality.
As this model indicates, we intend to forge ahead with the development of motor-assisted bicycles targeting all age groups in order to expand the market even further.
RealStream
Features of the
RealStream
1.
Equipped with a wide range of new technology to enable optimal sports rides.
The newly-developed S.P.E.C.8 Assisted Drive and Shift Position Sensor provide optimal levels of assisted power in all gear positions.
(1) "S.P.E.C.8 (Shift Position Electric Control 8) Assisted Drive"
The mechanism included in conventional motor-assisted bicycles makes it difficult to get the most effective use of the assisted power when in the higher gears. The newly-developed "S.P.E.C.8 (Shift Position Electric Control 8) Assisted Drive", however, activates the optimal amount of assisted power for all gears (8 gears) to provide smooth and powerful assistance even in the higher gears.
An aluminum housing drive unit has also been used to provide more durability and noise suppression than conventional bicycles.
(2) "Shift Position Sensor"
The "Shift Position Sensor" that enables the assistance levels to be set for each gear position.
The gear position is identified in accordance with the amount of torque on the shift wire, and position information is transmitted to the drive unit.
(3) "Eight Built-in Gear Positions"
A wider gear range than the normal three gears and finely-tuned gear positions to enable the most suitable gear to be selected in accordance with road conditions.
The gears are built into the cycle to minimize trouble when changing gears and to provide a more attractive form.
It is also possible to change gears when the bicycle is stopped to ensure that restarts are always possible in the higher gears.
(4) "Auto Eco Mode Plus"
Equipped with the Auto Eco Mode Plus, which only activates the power assistance when riding up hills and when starting and automatically turns it off when the bicycle reaches cruising speed. This not only saves battery power, it also allows the rider to experience both sports riding and power-assisted riding.

2.
Characteristic Cross Bike Style Suitable for Adults
(1) "The cross bike style frame complete with front suspension" preferred by men consists of straight pipes to make it both sporty and extremely strong.
(2) The emphasis has been placed on the design, with a simple configuration in which the drive unit wire is imbedded into the frame together with the brake shift wires.
(3) "26 x 1.5HE" slick tires that are useful for cycling around town have been used to provide stable cycling.

3.
Uses the lithium ion battery with a maximum capacity of 4.0Ah.
(1) The capacity of the lithium ion battery is 4.0Ah, but it is a lightweight model weighing only 1.2kg.
(2) It is possible to recharge only the amount of power that has been consumed to reduce recharging times.
(3) The use of the stand-type recharger means that it is less bothersome and only needs to be situated in place in the same way as a mobile telephone.
(4) A traveling distance of 61km is available in the Auto Eco Mode to provide expanded distance ranges with a single charge.
4.
Fitted with the BAA (Bicycle Association Authorization) Mark
This model conforms to the BAA (bicycle safety standards) enacted by the Bicycle Association.

5.
Equipped with Many Practical and Useful Functions
This model conforms to the BAA (bicycle safety standards) enacted by the Bicycle Association.
(1) "The Sporty Comfort Saddle" for greater seating comfort.
(2) Silent, precise, high-performance "V Brakes".
(3) "Kahenshiki handolu sutemu"(Variable Handle Stem) that enables the height of the handlebars to be adjusted.
(4) Equipped with battery LED lamps, a battery lock and a wire key that operates two locks with a single key as standard.
(5) Special rear fender carrier racks and other items are also available as options.
Shift Position Sensor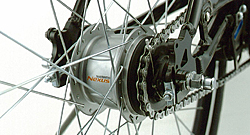 Built-in 8-speed gear box (Inter 8)
Overview of the
RealStream
1.Product Name:
RealStream
2.Product Configuration and Price
Type

Code

Wheels
Size

Transmission

Standard Cash
Retail Price
(including tax)

Frame Color

RealStream

RS68L8

26

Built-in
8-Speed
Gears

124,800 yen
(including
the 7,350 yen
recharger)

P Black Amethyst
SP Mirror Silver
P Cosmic Blue
3.Sales Area: Nationwide
4.Date of Release: August 08
5.Sales Target: 3,000 units (within one year of release)