Bridgestone Cycle Co., Ltd. (president: Keiji Watanabe) has improved the function for lessening the force of impact in the event of the bicycle toppling over with children aboard and uses a motor-assisted function to improve safety and comfort with the
Angelino Assista
motor-assisted bicycle for transporting children, which was released on nationwide sale on May 15.
Background behind the Development of the Angelino Assista
This model is a motor-assisted version of the Angelino series, for which sales have grown by more than twenty percent annually, and it has been developed as a child care bike for young mothers to provide both safety and comfort for children. This bicycle represents a full model change with the special child seat, which is fully equipped with a reclining function as standard to ensure improved safety and comfort. This function improves comfort for children and an increased field of vision for mothers to guarantee even higher levels of safety when bicycling. The motor-assisted function is activated with just light pressure on the pedals to prevent handle wobbling and enables the bicycle to be ridden easily up inclines and in the face of strong winds, and this provides greater levels of stability and safety.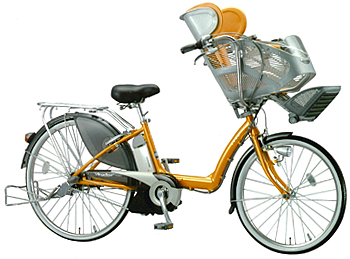 Angelino Assista AG26L8
Features of the
Angelino Assista
1.
The Super Angel Seat 2.0, providing added safety and comfort for children based on scientific experiments.
A reclining function has been added to this new style of high-grade baby seat fully equipped with functions to provide safety and comfort, and it has evolved into a seat that guarantees superior levels of safety and comfort for children.
(1) Equipped with "Yuttari reclining"(a reclining seat) to provide safety and comfort for children.
The conventional 20-degree reclining angle has been extended to 30-degrees to prevent the child from being thrown forward and to provide greater levels of safety and comfort. The reclining seat also provides a wider field of vision for the rider, which also improves safety.
(2) The new style of flexible head guard that protects the head has been enlarged to not only support the head with a larger cushion (made of urethane,) but also to provide greater levels of protection. The head guard has been designed in a concave shape to prevent helmets coming into contact with it.
(3) The sliding foot rests are adjustable between six stages to match up with the natural growth of children.
(4) The firm but "shikkari yasashi safety belt"(gentle safety belt) fits securely over the shoulders to prevent children from standing up.
(5) The fit rest can be closed when a child is not on the bicycle to turn it into a shopping basket.

2.
Two major safety functions to prevent toppling when the bicycle is parked.
(1) "Temotode Lock II" enables the handlebars to be locked and released swiftly and easily in the most natural manner without having to take the hands off the handlebars.
(2) "Super Rakuraku wide stand"(The Super Easy Wide Stand) has greater breadth to prevent the bicycle from falling over, and it can be operated with a simple touch of the foot to avoid unstableness when parking.

3.
Uses "Merihari Assist"(the new Modulated Assistance mode) and the Auto Eco Plus drive units
(1) "Merihari Assist"(the new Modulated Assistance mode) supports more comfortable peddling.
The assistance programs have evolved to provide smoother starting power and to provide more power when riding up inclines. Traveling distance has also been improved with the [On] mode (standard assistance,) and a real sense of power will be felt when in the [Power] mode (power assistance).
(2) The Auto Eco Plus function enables smoother assistance switch-over.
Hills and flat surfaces are automatically detected when [the Auto Eco Plus] mode is selected to provide assistance power control. All three of these assistance modes are selected automatically in accordance with road conditions to make cycling less bothersome and more enjoyable.

4.
Uses the lithium ion battery with a maximum capacity of 4.0Ah.
(1) The capacity of the lithium ion battery is 4.0Ah, but it is a lightweight model weighing only 1.2kg.
(2) Total distance and battery life has been extended by approximately 10% for normal cycling.
(3) It is possible to recharge only the amount of power that has been consumed to reduce recharging times.
(4) The use of the stand-type recharger means that it is less bothersome and only needs to be situated in place in the same way as a mobile telephone.

5.
Fitted with the BAA (Bicycle Association Authorization) Mark
This model conforms to the BAA (bicycle safety standards) enacted by the Bicycle Association.

6.
Full Safety and Anxiety-Free Support System
Safety support is provided anxiety-free with the Angelino Carefree Accident Insurance, which is valid for one year, and the Three Year Theft Compensation System. There is no charge for subscribing to either of these systems.

7.
Equipped with Many Useful Functions
(1) The LEDs used on the white flash slim battery lamp are bright and have a long life.
(2) Fitted with a pipe carrier to prevent instability when heavy loads are placed on the rear carrier.
(3) The new non-slip pedals are finished in a material that prevents the soles of shoes from slipping.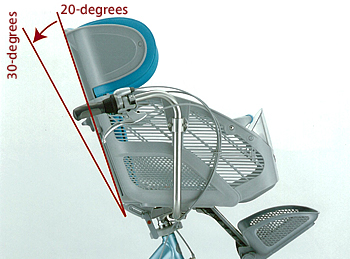 Super Angel Seat 2.0
1.Product Name:
Angelino Assista
2.Product Configuration and Price
Type

Code

Wheels
Size

Transmission

Standard Cash
Retail Price
Price (including tax)

Frame Color

Angelino Assista (Motor-Assisted Bicycle)

AG26L8

Front: 22
Rear: 26

3-Shift Gears

119,800 yen
(Including recharger:
7,350 yen)

M. Precious Aqua
F. Élan Orange

120,800 yen
(Including recharger:
7,350 yen)

E. Sand Beige
M. Jewel Brown
E. Modern Red
E. Natural Olive
E. Black
3.Sales Area: Nationwide
4.Date of Release: May 15
5.Sales Target: 10,000 units (within one year of release)