In compliance with revisions to the Road Traffic Act that require all children and infants to wear helmets when riding bicycles, the Bridgestone Cycle Co., Ltd. (president: Keiji Watanabe) has greatly improved on conventional helmets and released the
NEW Safety Helmet
designed for children on a nationwide basis on March 25.
Background behind Development of the NEW Safety Helmet
It was announced on June 20, 2007, that certain revisions to the Road Traffic Act made it obligatory for children and infants to wear helmets when riding bicycles.
(Conformance with the responsibility to protect children and infants)
Road Traffic Act, Section #63, Article #10: All people responsible protecting children and infants shall strive to ensure that they wear helmets when riding bicycles.
We have strongly recommended that children wear helmets ever since the release of our Angelino bicycle fitted with child seats (specially-designed bicycle with child seats at the front and the rear.)
We market helmets designed for children riding alone to and from school, but the new helmet was developed with high safety levels and is both lightweight and equipped with an adjuster so that the size can be adjusted to fit the size of the head.
Features of the NEW Safety Helmet
1.
Japan's first child's helmet fitted with an adjustor to ensure it fits the head perfectly.
1)Conventional child helmets are fitted with an adjustable chin-strap, but we overcame the difficulties inherent with ensuring the helmet fits the head perfectly by developing an adjustor so that the size of the helmet can be moved forwards and backwards.
2)It is adjustable within a range of 51cm to 57cm to fit most Japanese elementary school children, and it remains firmly in place in the event of a tumble to protect the child's head.
2.
Lightweight design to reduce the strain on the neck
The helmet is made from ABS resin to provide a lightweight structure of just 320g and reduce the strain on the child's neck.

3.
Large ventilation holes to provide favorable airing
The helmet includes large ventilation holes to make it comfortable during the humidity of the summer for children who ride their bicycles to school or otherwise use them on a daily basis.
4.
Colorful 4-tone lineup
Child helmets are generally white, but we have used multiple colors to make bicycle riding even more fun.
5.
The inside of the helmet is covered with six inner pads to provide comfort.

6.
The helmet conforms to product safety standards (SG Mark.)

7.
High-reflection seals are available as options.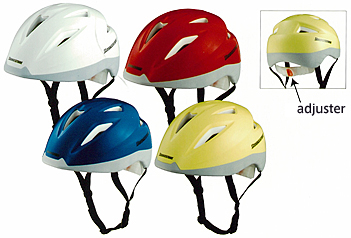 NEW Safety Helmet CHNS5157
Overview of the
NEW Safety Helmet
1.Product Name:
NEW Safety Helmet
2.Product Configuration and Price
Type

Code

Standard Cash Retail Price
(including tax)

Color

NEW Safety Helmet

CHNS5157

4,200 yen

White, Blue, Red, Yellow
3.Sales Area: Nationwide
4.Date of Release: March 25
5.Sales Target: 30,000 units (within one year of release)