Bridgestone Cycle Co., Ltd. (president: Keiji Watanabe) released the
emeters
cycle meters nationwide on March 15 to provide a solution for even more enjoyable cycling, and at the same time opened the
emeters
cycling SNS website (
www.emeters.jp
).
This represents Japan's first cycle meter that can be connected to an SNS website, and it creates a new style of cycling culture as a forum for exchanging cycling information by enabling personal cycling data to be managed and members to communicate with other members.
Objectives Behind the Development of emeters
Bicycles are environment-friendly and contribute to maintaining good health, and we developed this cycle meter as a tool for creating a new style of cycling culture in order to enhance levels of enjoyment and efficiency.
The data, which up until now has only been used by the individual concerned, can now be uploaded to the SNS site (Social Networking Service) on the Internet from a personal computer so that cycling data can be shared with the community for the first time ever in Japan.
Cycling is generally perceived to be an individual sport, but sharing data with other cyclists in order to establish new objectives and targets provides new opportunities that transcend the conventional borders of individual information.
This service is not aimed only at youthful cyclists, but also at anybody who commutes by bicycle, uses bicycles to maintain health, or cycles in order to lose weight, and it is sure to provide more enjoyment in cycling lifestyles and increase the number of people who gain an interest in environmentally-friendly bicycles.
* Naming: The 'e' in
emeters
stands for "eco" and "enjoy."
The "s" stands for "system" and represents the plural (to cover the interaction of multiple people.)
emeters concept
The concept of
emeters
is; the fun of cycling, the enjoyment of the site, contributing to global conservation.
The
emeters
cycle meter makes cycling much more enjoyable by providing information on distance traveled, average speed and consumed calories at a glance when it is mounted onto bicycles.
This enjoyment is doubled when the results of the
emeters
are uploaded to the web site so that they can be viewed as graphs and so that information can be exchanged with other people.
Also, bicycles don't use gasoline and consequently help reduce CO
2
emissions, and this contributes to environmental conservation.
Features of the emeters Cycle Meter
1.
It is fitted with a basic mode that provides easy-to-understand measurements automatically, and a time-trial mode that can take measurements over certain distances.
1)The basic mode measures distance traveled, amount of time traveled, traveling speed and consumed calories automatically from the moment the pedal is pressed down, and goes into stand-by mode during periods of rest. This enables measurements to be taken easily without having to press a button.
2)The time-trial (TT) mode that measures data over a predetermined distance commences and ceases measurements with the press of a Start/Stop button.
3)The date and time are permanently displayed when cycling. This is very useful for people who commute on their bicycle.
2.
Data Storage Function
1)Data covering the most recent thirty days can be stored within the cycle meter in units of days with the basic mode.
2)A maximum of sixty sets, or nineteen hours, of cycling data can be stored with the time-trial mode.
3.
Carefree Management of Cycling Data on Personal Computers
1)Data can be uploaded to the cycling SNS simply by connecting it to a personal computer and clicking once on the dedicated software that starts up.
2)A special USB connection cradle is used to connect the meter to the personal computer.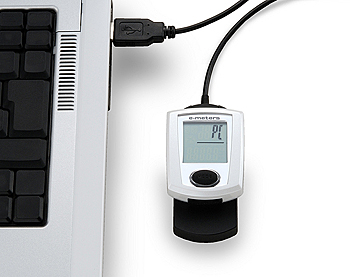 Click on the image for a larger view
Features of our In-House Developed Cycling SNS emeters Website
This dedicated SNS to which cycling data stored within the meter can be linked was developed in-house by Bridgestone Cycle Co., Ltd.
Membership registration is free for all
emeters
owners. This enables cycling data to be managed and information shared with other
emeters
owners on the Internet.
emeters
members are also awarded eco-points for cycling certain distances to indicate the contribution they are making to environmental conservation.
1.
Function for Managing Cycling Data in Graph Formats
1)Cycling data stored in the cycle meter (distance traveled, traveling time, traveling speed, consumed calories) can be managed by day and by month. The use of graphs makes the results easily understandable at a glance.
2)Members may also enter details on their own weight and body-fat ratios and display them in graph formats. This can be used for people who wish to lose weight by allowing them to check on the amount of exercise they have completed.
2.
SNS Functions Optimized for Cyclists
1)Friend registration function and community function
emeters
members can register each other as their friends. This enables them to easily check up on their friends' cycling data.
Members can also create communities based on any theme they wish, such as establishing targets for weight loss, for cycling around local areas, and even for cycling around the world.
The
emeters
website also enables the display of total distances traveled by each community, and objective administration.
2)Challenge Function
Individuals may set up cycling distance targets and follow their own progress on a graph.
Communities that are aiming to cycle a distance equivalent to circumnavigating the earth can also follow their own progress.
Medals are awarded to everybody who achieves their targets.
3)Cycling Map Function, Traveled Distance Ranking
Cycling courses can be plotted on a website map with the use of the mouse. Elevation levels can also be plotted.
A function that displays the rankings for distance traveled on a nationwide basis is also available.
The results of these rankings can be sorted by age group, gender, prefecture and bicycle type.
3.
Collect Eco-Point Leaves and Contribute to Environmental Conservation
An automobile emits approximately 1kg of CO
2
for every 4.3km it travels.
In other words, traveling the same distance by bicycle, which does not use gasoline, reduces CO
2
emissions by 1kg.
emeters
members are award one eco-point leaf for every 4.3km they cycle.
All members increasing the number of leaves they possess contributes to environmental conservation.
(Vehicles with a fuel-consumption level of 10km/liter are estimated to emit 2.3kg of CO
2
for every liter of gasoline they burn.)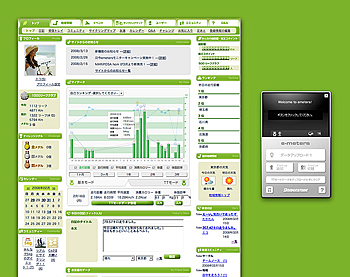 Click on the image for a larger view
Overview of the
emeters
Cycle Meter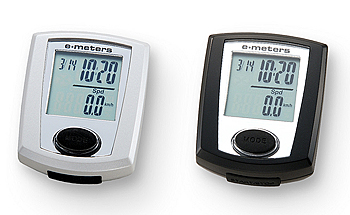 Click on the image for a larger view
1.Product Name:
emeters
2.Product Configuration and Price